Over $6,000 value -A great offer!
9 Next Level Flexibility Makeover Intermediate Bundle Intensive SeriesAll Bundle Packages Include Private Facebook Group to ask Stacey questions
Next Level Flexibility Makeover Intermediate
Courses included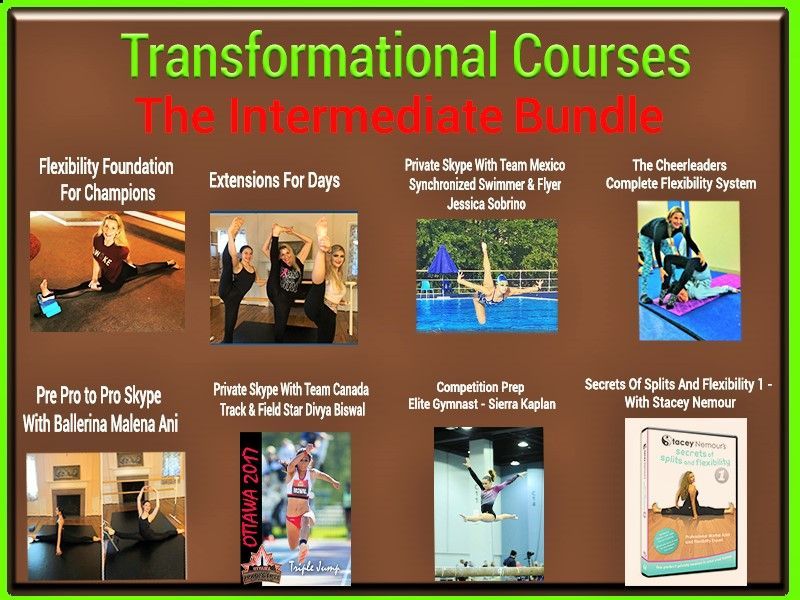 Stacey's proven results speak for themselves. It's your turn now to move past long standing plateaus, so you may perform at your highest capacity & be competition ready for critical auditions, Nutcracker season, on stage and film. Ideal for gymnasts, dancers, rhythmic gymnast, circus artist, cheerleaders, figure skaters, track and field, hurdlers , parkour, pro-athletes, competitive dancers, yoga, acro, martial artists, any sport and help clear and prevent injuires
Stacey Nemour
Stacey is one of the most renowned flexibility masters. She has been Flexibility Coach to top athletes, Olympians, Professional dancers, Cirque Du Soleil performers, Actors, UFC Champion Victor Belfort & Carlson Gracie Team and more, all to maximize their potential. She has been involved as an action actress with her understanding of how to maximize range of motion with perfect alignment.

Stacey has over 25 years of experience in the field of flexibility and martial arts. She is a blackbelt in Kung Fu and began working with flexibility when experts recognized her unique gift and range of motion. Her extensive experience is highlighted in these courses, designed to get you the same results as the top professionals.
How To Get The Highest Results
Preview of how Stacey sets the tone to get the most out of her flexibility programs!
Join the Flexibility Movement! Sign up to Immediately Improve Your Flexibility.
Created with