14 Transformative "Beginner's Flexibility Master Class Series" A step by step guide to finally move beyond stuck plateaus in mind & body.
*Courses Don't Expire
*Easy To Follow
*Go At Your Own Pace
*Breathe Life into the Body Temple
*Feel & Look Years Younger
*Heal Shoulder, Back, Hip & Knee Pain
*Open Locked Hips, Back & Groin
*Immediately Increase Mobility
*Learn How to do Splits
*Clear Stored Traumas, Upsets & Grief in the Body
*Improve Posture
* Low Payment Option @ Checkout

Stacey brings an unmatched approach to flexibility & healing

Includes "Claim your Posture Back" Course
New Course Included "End Lack of Flexibility" Featuring actress Michelle Greene

Stacey guides Emmy nominated actress from L.A. Law who is ageless 60 years old to astounding new levels of flexibility & mobility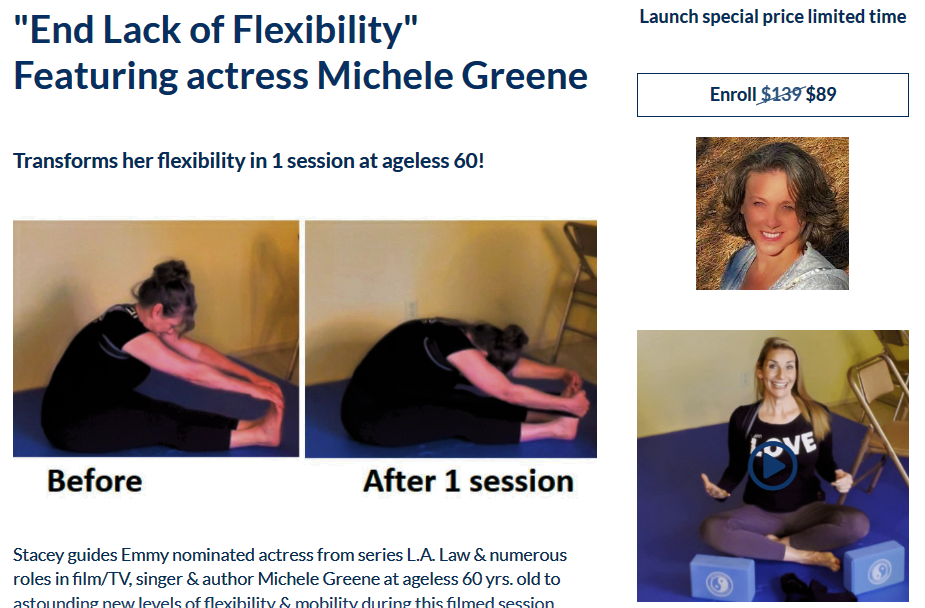 What's included?
A Lifetime Guide of 14 Programs to Advance Through! Plus, New Course "Flexibility for Releasing Trauma-Take your Power Back

Stacey Guides Kathy Tucarro author, radio show host & motivational speaker that went from addict and homeless, to driving the world's biggest truck.
*Intensive Energy Healing Flexibility Training Program
*Boxing Techniques Empty Hands & with Weights
*Learn How to Train for a Handstand
*Finishing Meditation to Take your Power Back
Kathy's testimonial after going through this course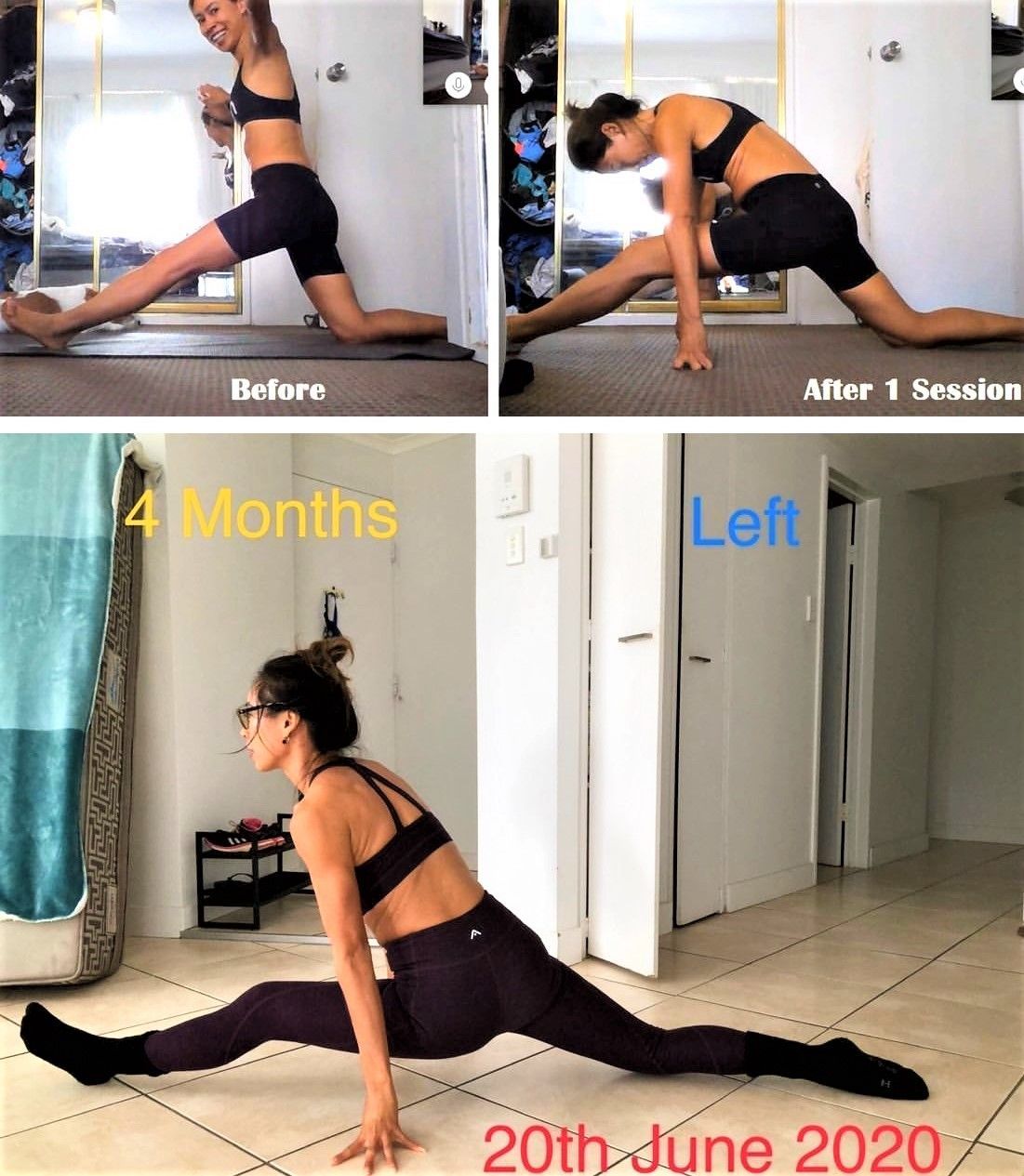 Grace is 38 years old & has a dream and a passion to get into the splits. She's enrolled in the "Beginner's Package Series" Testimonial:

"I have finally found my answer to trying to accomplish my goal of the splits YOU X"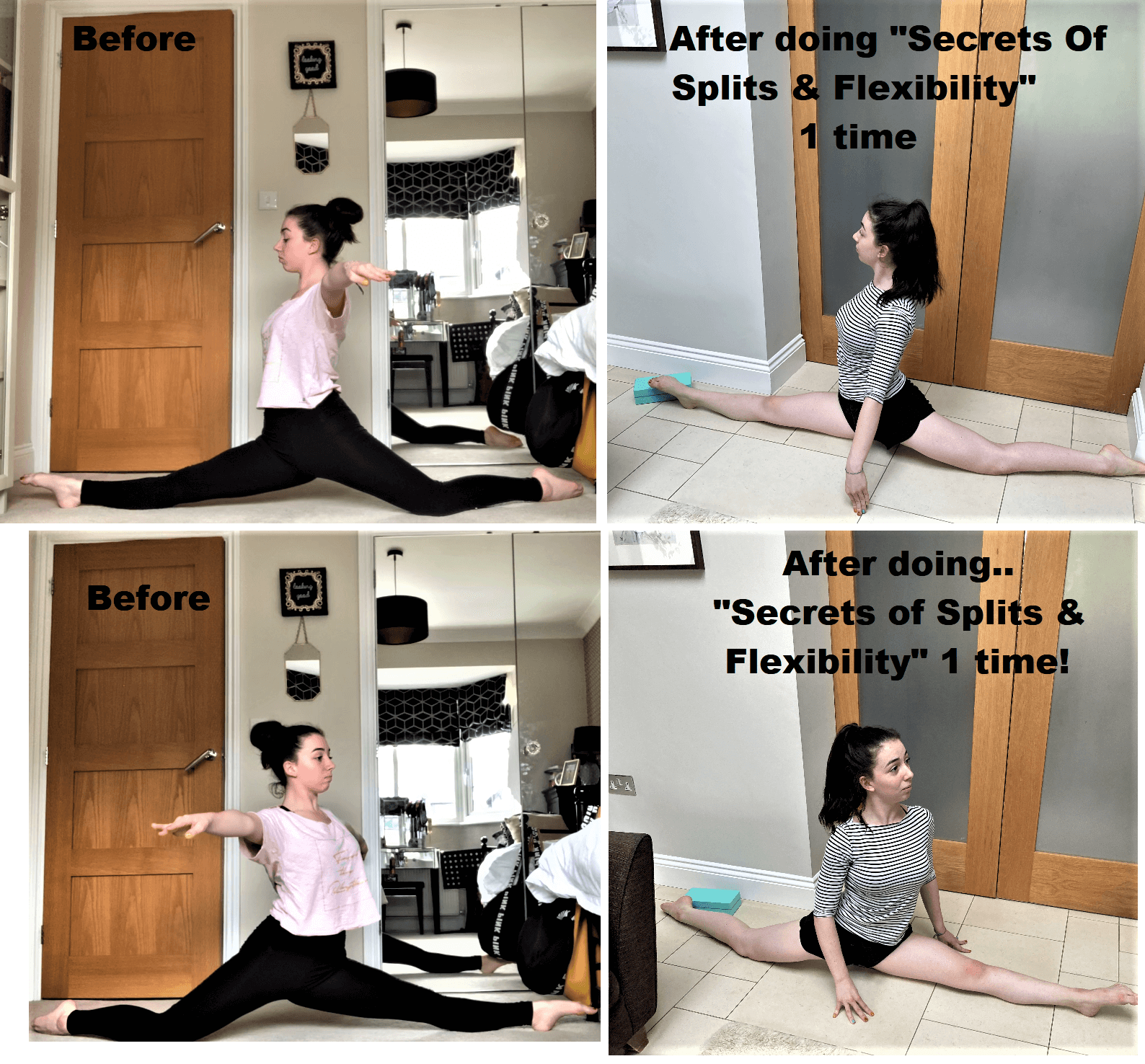 "Miracle Worker! have just done your secrets to splits course and I am amazed with the results!!! After just 1 time, I easily slid into the splits and was near to over splits when using two yoga blocks! This course is amazing and I can't wait for the band to arrive and to continue to see such vast improvements! Thank you so much!!! Isabella"
Before & After Results
These results happened organically during the filming of "Flexibility At Any Age - Where Do I Even Start!? This course finishes with a guided meditation to help you program to experience your natural state of well-being.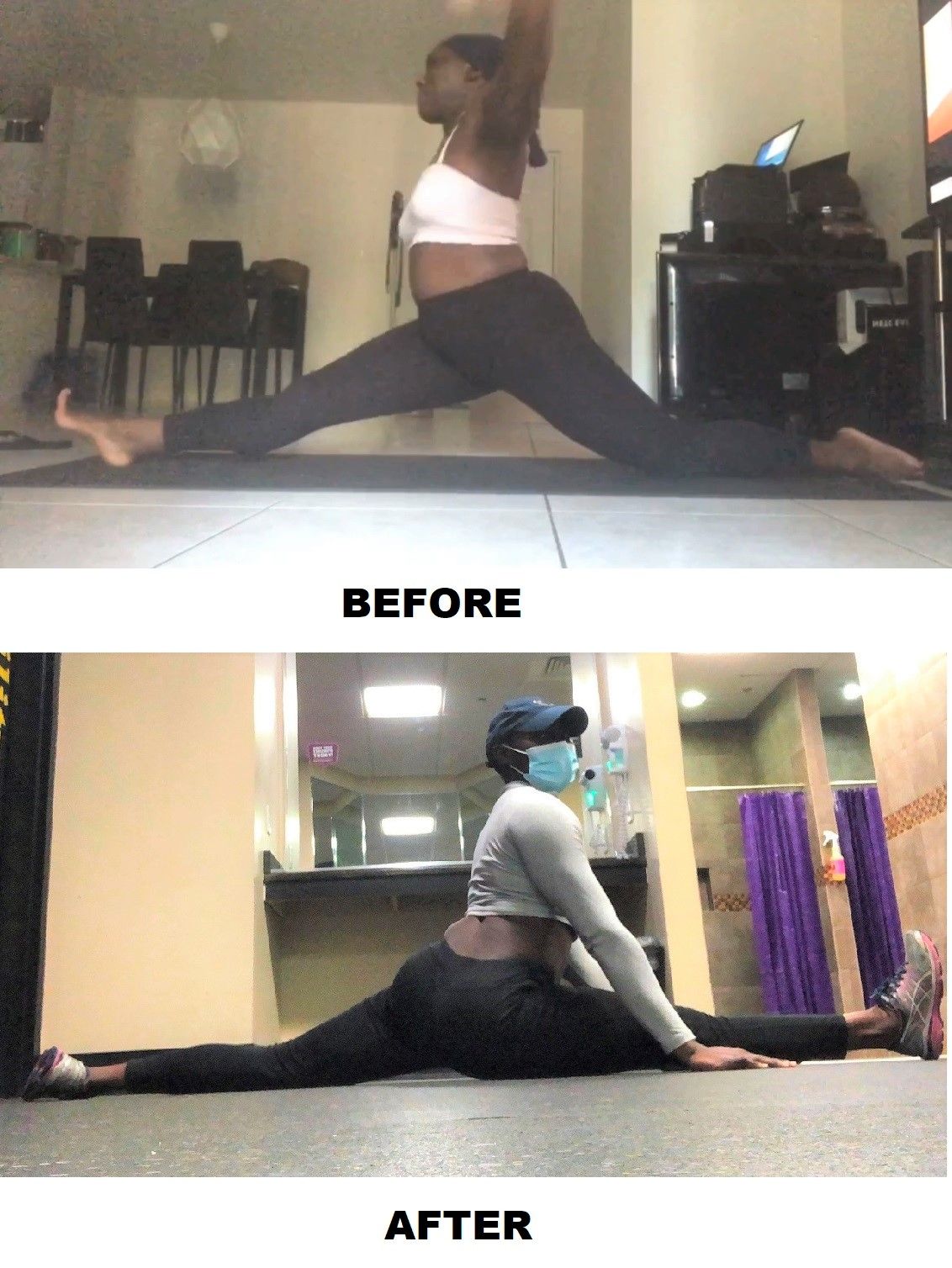 "Good Morning Stacey, I have been consistently incorporating your stretches from your "Beginners Flexibility Bundle Series" after intensive physical training. After completing the stretches & meditation it would lift all of the stressors out from my body resulting in an emotional release. It happens every time and I thank you for this beautiful program.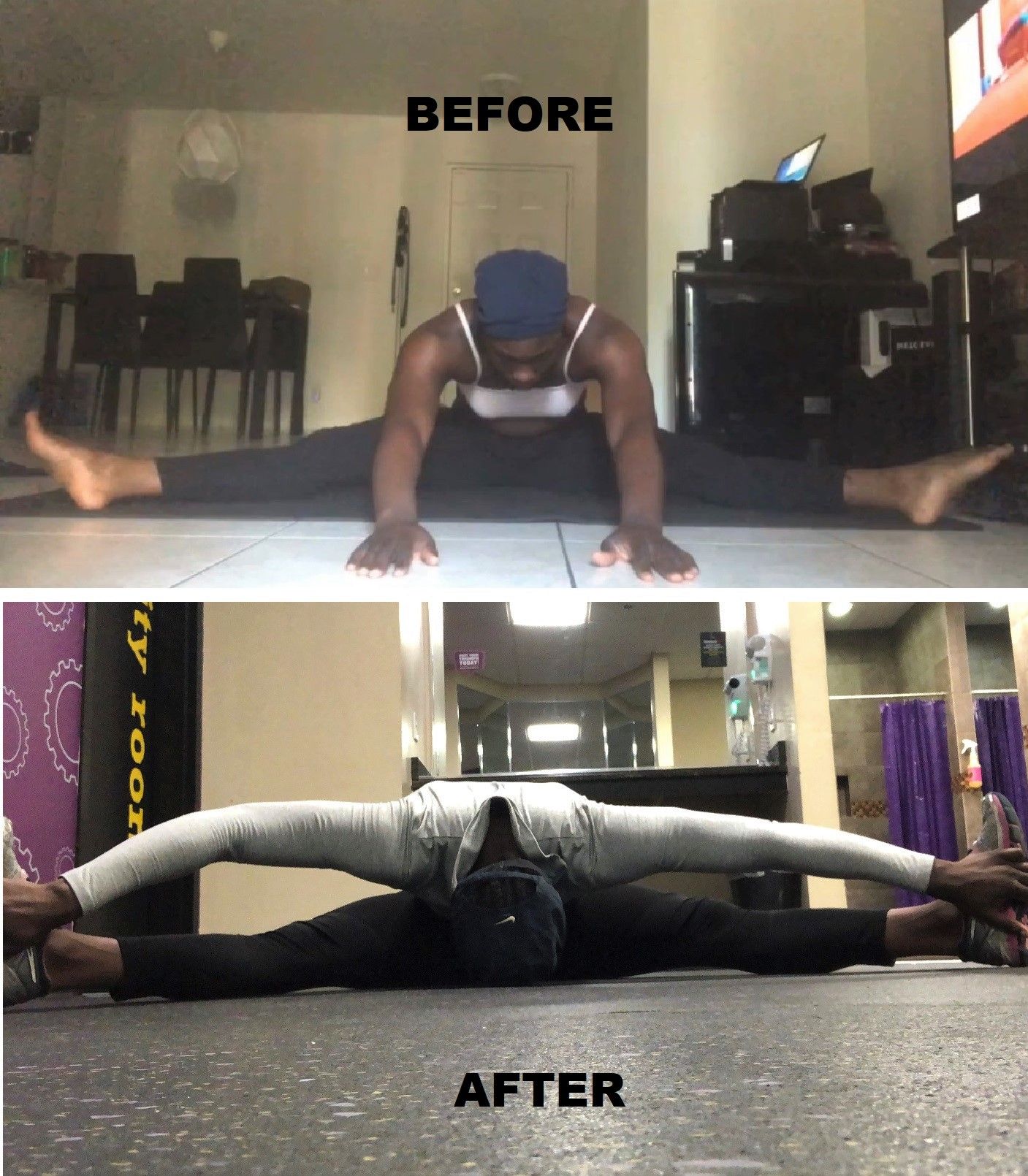 Continued " I pulled my left hamstring and had to work my way back up, but here are some pictures!! I hope next to get my middle splits in very soon."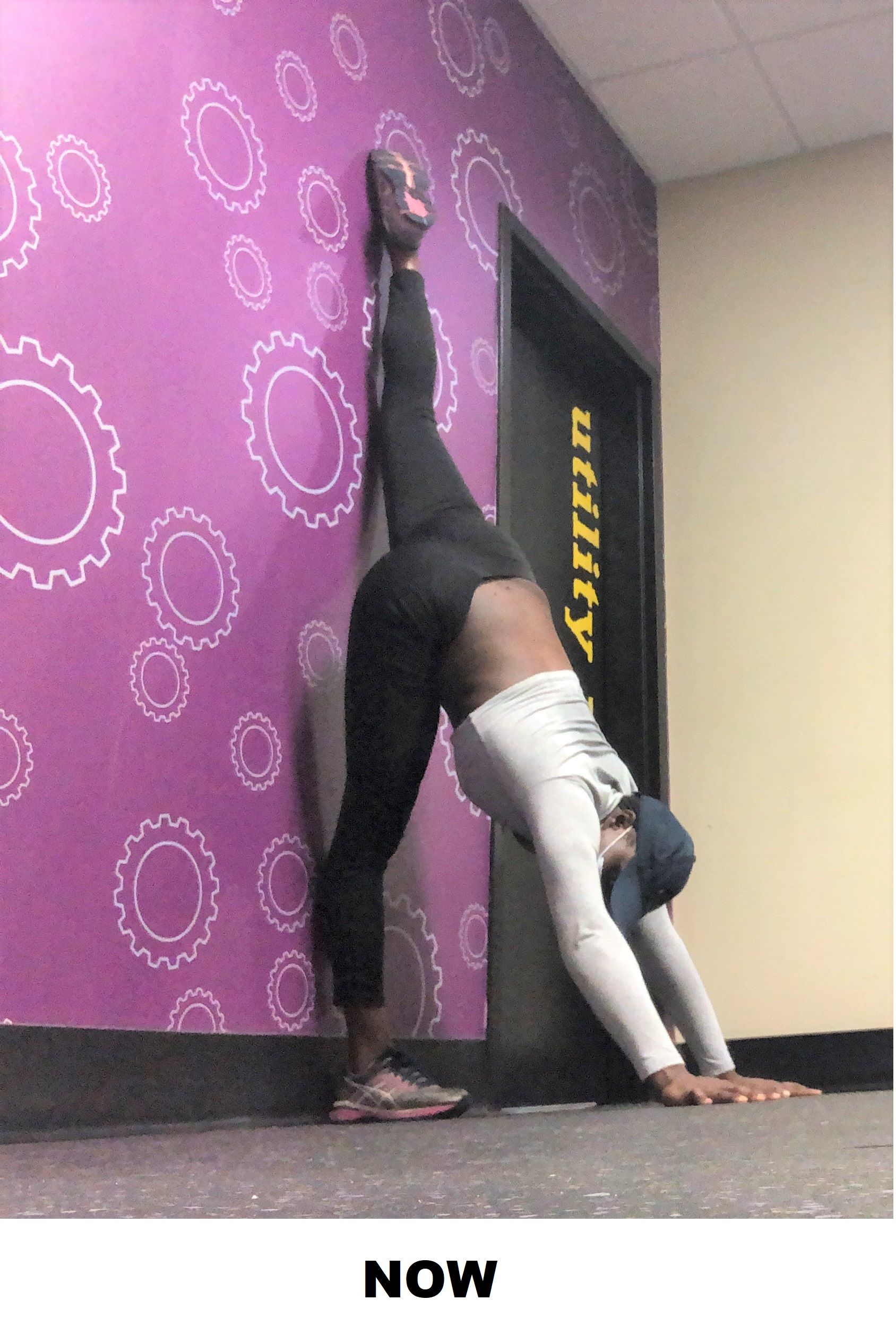 "Love Stacey Nemour. All very simple stretches, no fluff. Would highly recommend her "stretching for the least flexible people on the planet" 😁
:
I am 43 and don't want to injure myself. I've danced my whole life, however started ballet 3 years ago after years of dancing Flamenco: Thank you thank you thank you!!! I went through "Flexibility At Any Age" last night and I'm hooked! I even woke up feeling better and can't wait to do more! I'm excited to get my husband and son on board with me. I'm going to order three Stacey Stretch Straps for us today."
I have purchased "Secrets Of Splits & Flexibility" 1. Which is great my son that hates stretching loves it! Thank You for your help.
Dwayne Battles Martial Arts Instructor
Hello Stacey, I regularly do "Secrets Of Splits & Flexibility" to help with my karate. My kicking is better than ever and recently going to my 3rd. dan. I just want to say many thanks, you're a star!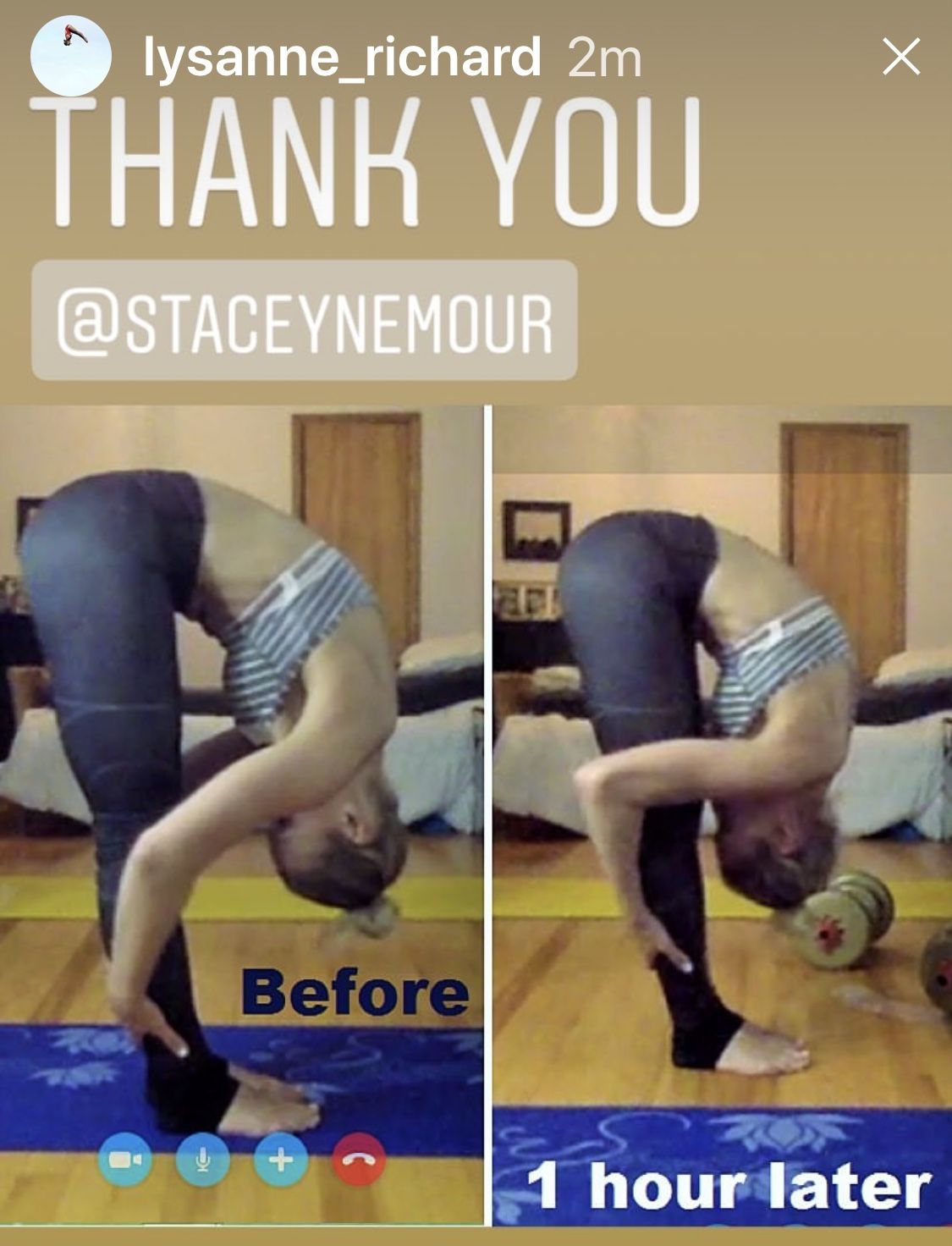 These exact 2 courses are included as Stacey guides the top female Red Bull cliff high diver Lysanne Richard. Follow along and learn how to clear a stiff locked neck & much more!

A bonus shorter program of 33 minutes is included. This online course is available on its own & featured in this "Beginners Flexibility Master Class Series
Low Payment Installment Option At Checkout
Beginner's Ultimate Flexibility Makeover Guide
\Learnworlds\Codeneurons\Pages\ZoneRenderers\CourseCards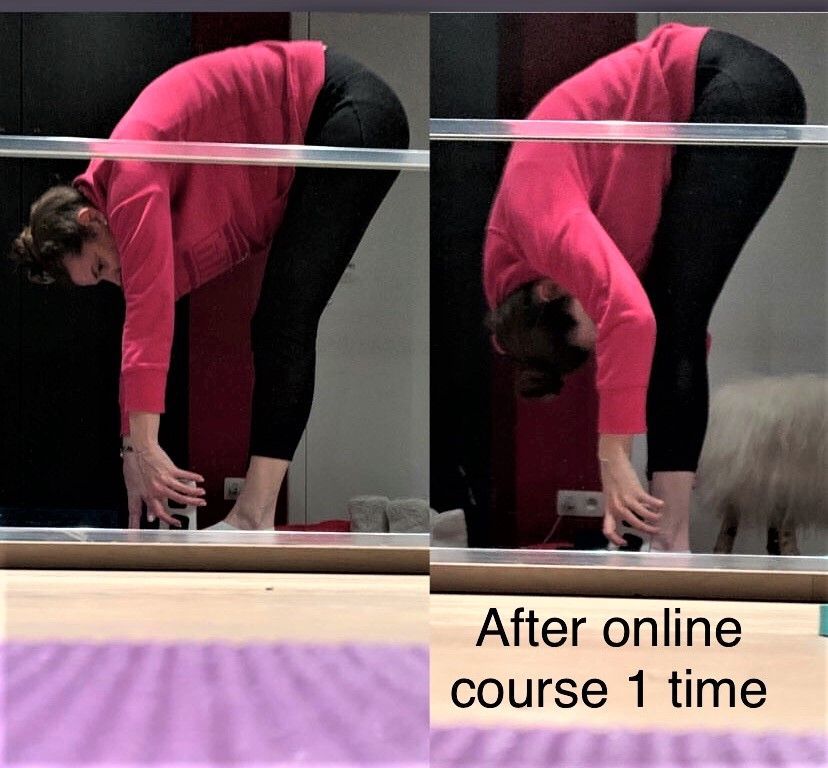 Hello Stacey! I just tried the 1st modules of "Flexibility @ Any Age" (the 1st 1hr 20 minutes of the program) and love it! Thank you so much!" Coralie.

This online course is available on its own & included in the "Beginners Flexibility Master Class Series" & Martial Arts Master Class Series".
Before & After Results in 1 Session While Filming Complete Track & Field Flexibility with Team Canada's Divya Biswal.

Whether you are a top level athlete who is tight & locked up or non-athletic tight person, everything you need is here. This course with Stacey guiding Divya included in this package.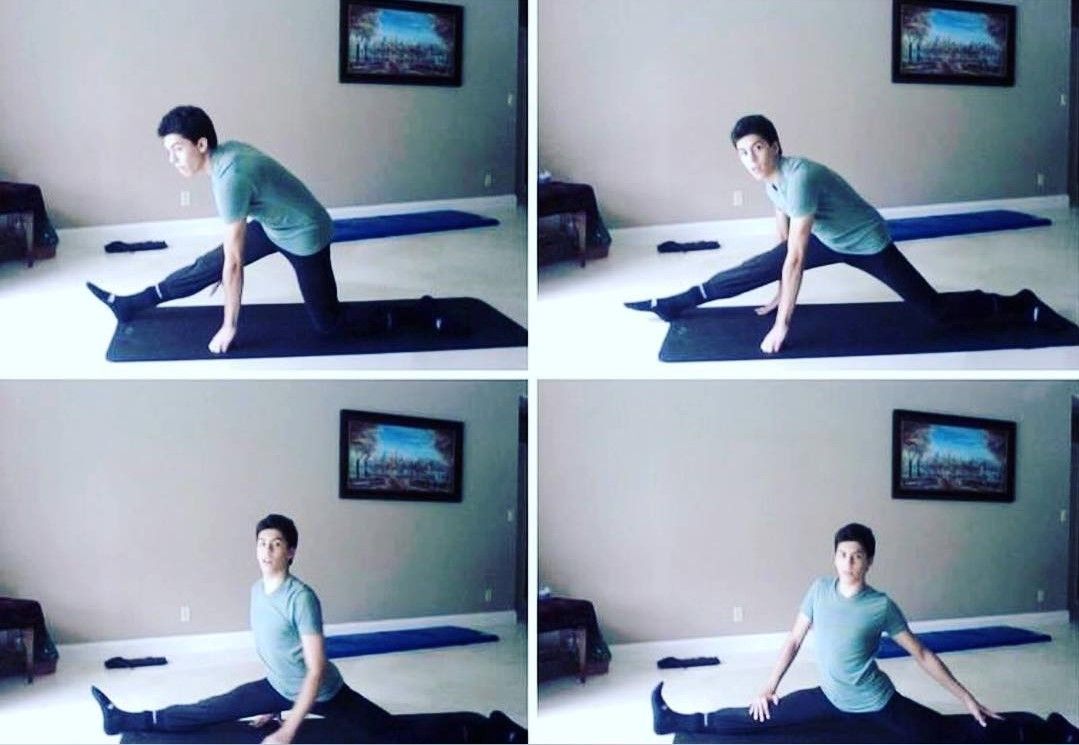 "Thank you so much for everything " Secrets of Splits & Flexibility" has truly transformed me! Stephen

Testimonial from Justin Pumillo after going through "Secrets of Splits & Flexibility" he got his splits.

Available on it's own. Also included In Beginner's Bundle Series & Dance! Flexibility Makeover Power Series "Martial Arts Power Series"
Results Happen During Filmed Skype.



"Ella has always struggled with flexibility to the point where she believed she wasn't going to ever get her splits. After just one session with you, she was almost down to the floor. We cannot thank you enough for you skill and technique, but more importantly, your kindness and encouragement of Ella during the session. She loved every minute of it.

"

This session Included in this package.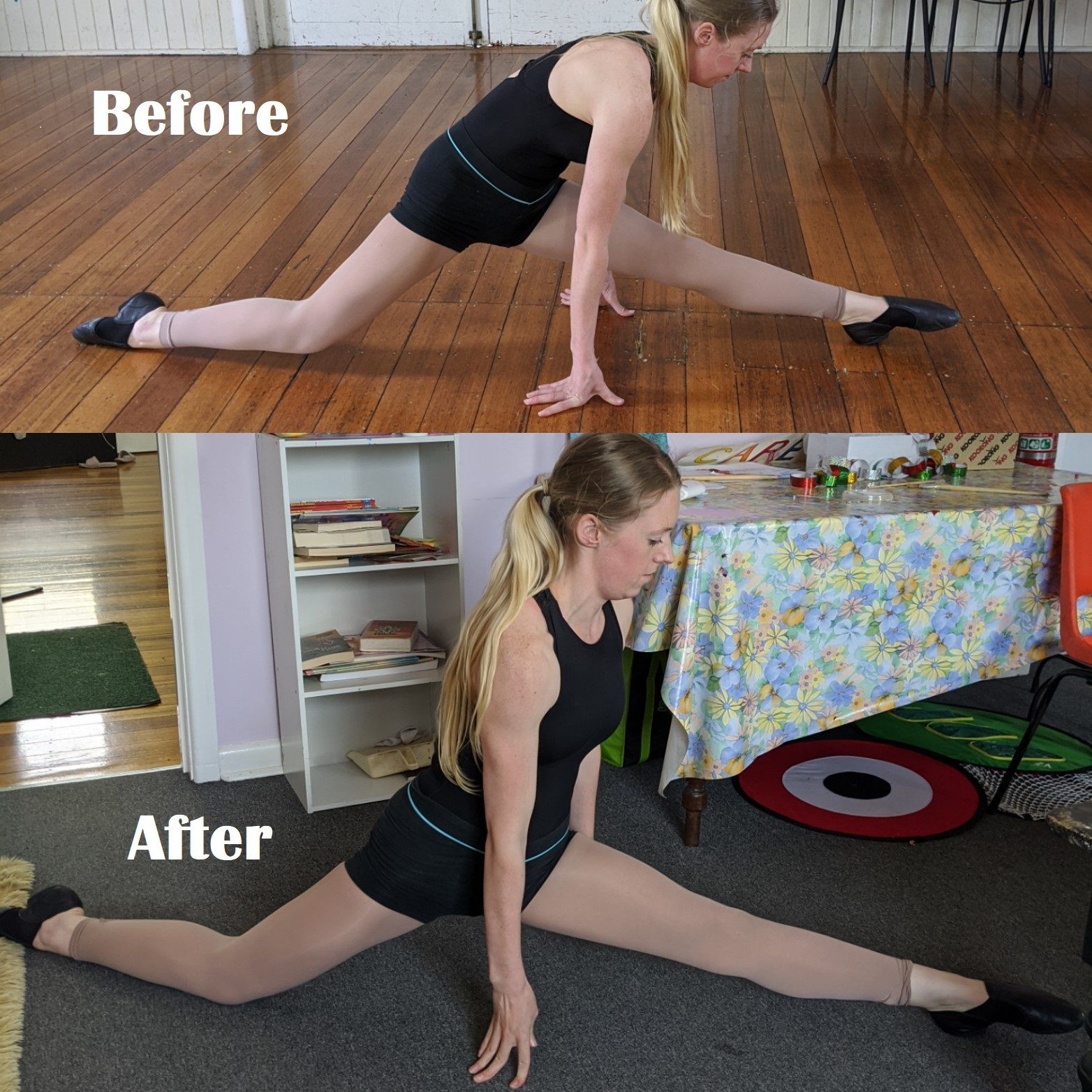 Before & after results from 1 training with course 1 time, from Dancer Bianca. Training With "Flexibility Makeover For Dancers Held Back by Tightness".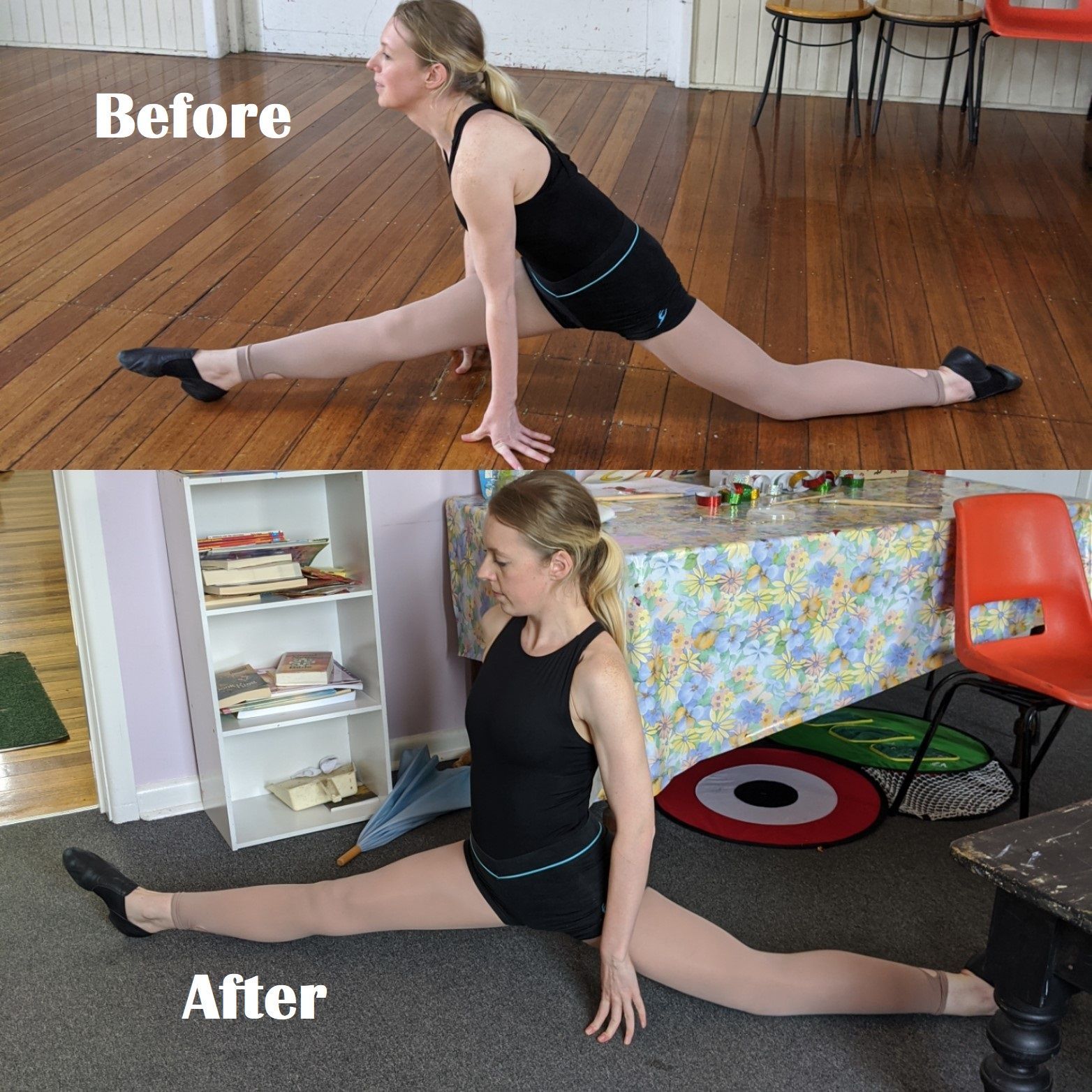 "I'm 25 years old and needed to prepare for Dance Company performance. Here's my splits progress from just doing course 1 time with your Stacey Stretch Strap. Thank you Stacey" Bianca Cathro
Before & After Results From Course Member Training With "Flexibility At Any Age 1 Time! Included In Beginner's Bundle Series
"I can see a difference already. Who knew my calves were adding to my stiffness. I'm 59 and run 2-3 miles a day about
4 days a week (jog really) Thanks! "Ann Costigan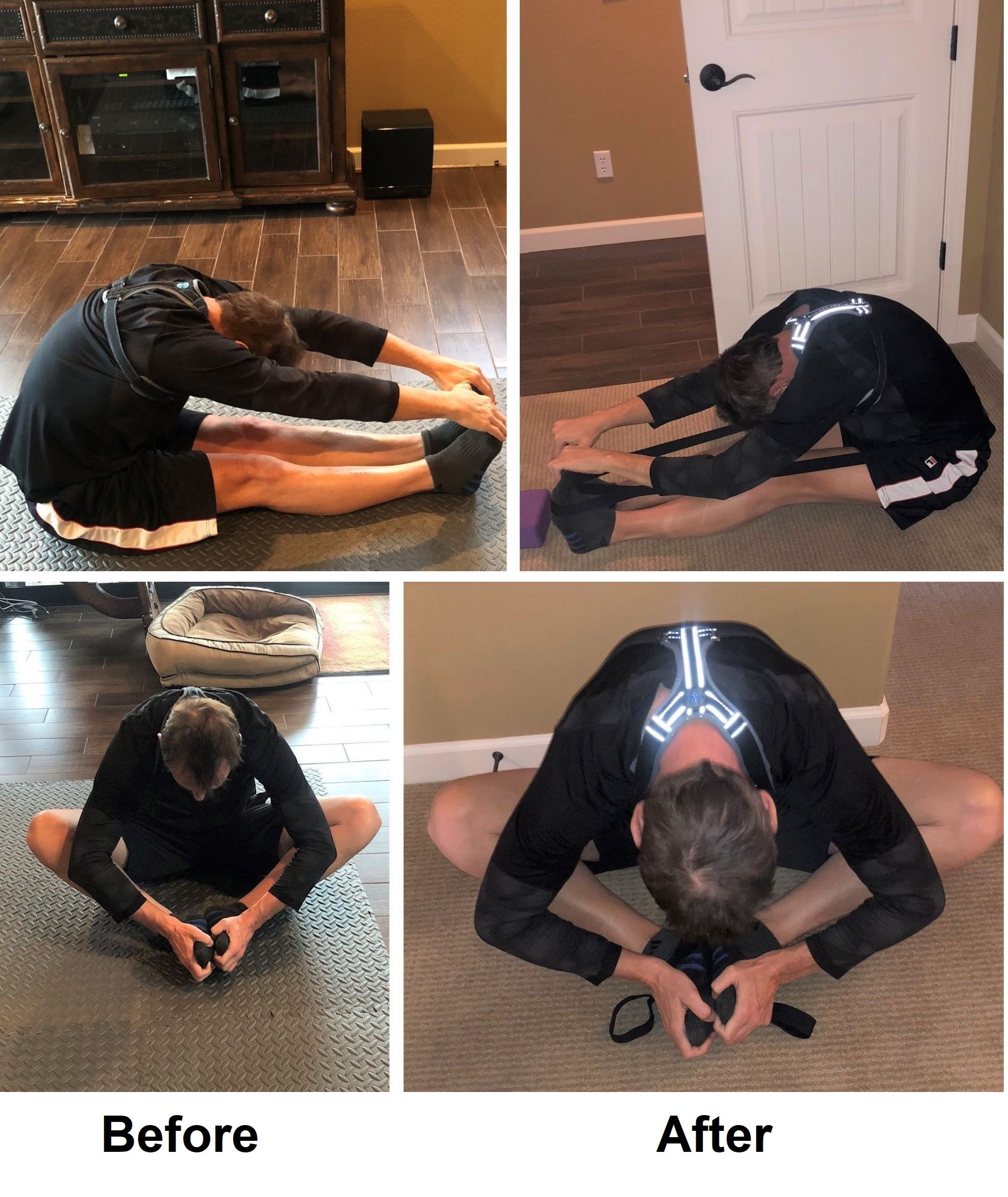 Before & After Results From Course Member Who Trained With "Flexibility At Any Age" 2 Times.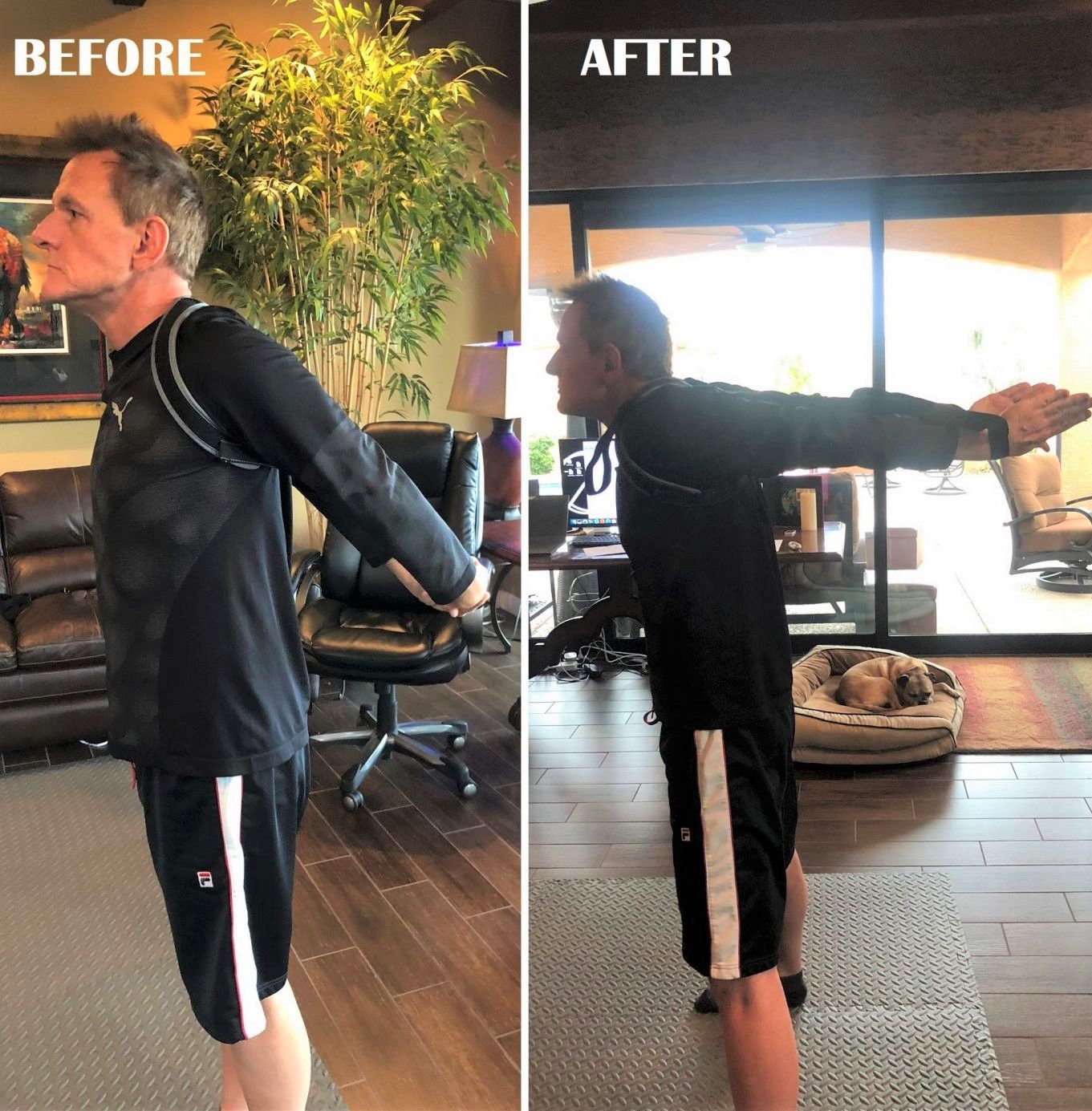 "Course Feedback:
I'm amazed at how fast the system works if you follow the program. After only going through course 2 times I felt massive relief in my knee and hip pain. Your program goes beyond just flexibility. I know if I stick with this easy to follow program I will be happy and healthy for decades to come. Thank you Stacey for offering the secret to flexibility and a full life at any age!" John Woodall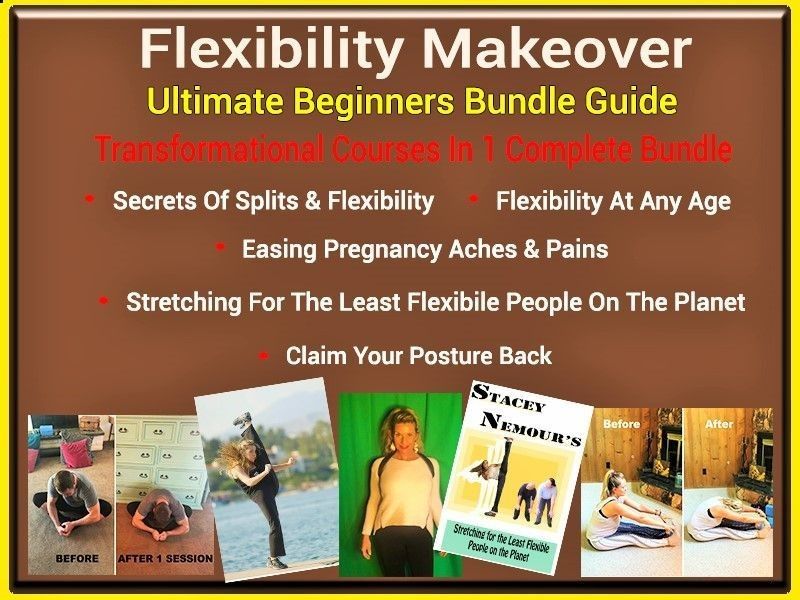 "Flexibility at Any Age - Where do I even start" Here! I understand how being super tight and feeling stuck can be physically & emotionally painful.

"End Lack of Flexibility"
"Flexibility for Releasing Trauma"
"End your back Pain Flexibility Course"

"
Transformational
F
lexibility Mastery"
"Flexibility Formula Short Programs"
"Complete Track & Field Flexibility
"Stretching for the Least Flexible People"
"Secrets of Splits & Flexibility"
"Flexibility for Dancers Held Back by Tightness"



"Easing pregnancy Aches & Pains with Australian actress Stephanie McIntosh" from TV series "Neighbors "this course also works for anyone feeling tight from changes in body and in life! The meditation at the end of some of the programs are perfect balancing for mind & body.

After you have advanced from the beginner courses and feel ready for more "Flexibility Foundation For Champions" and all the other courses will guide you to a whole new level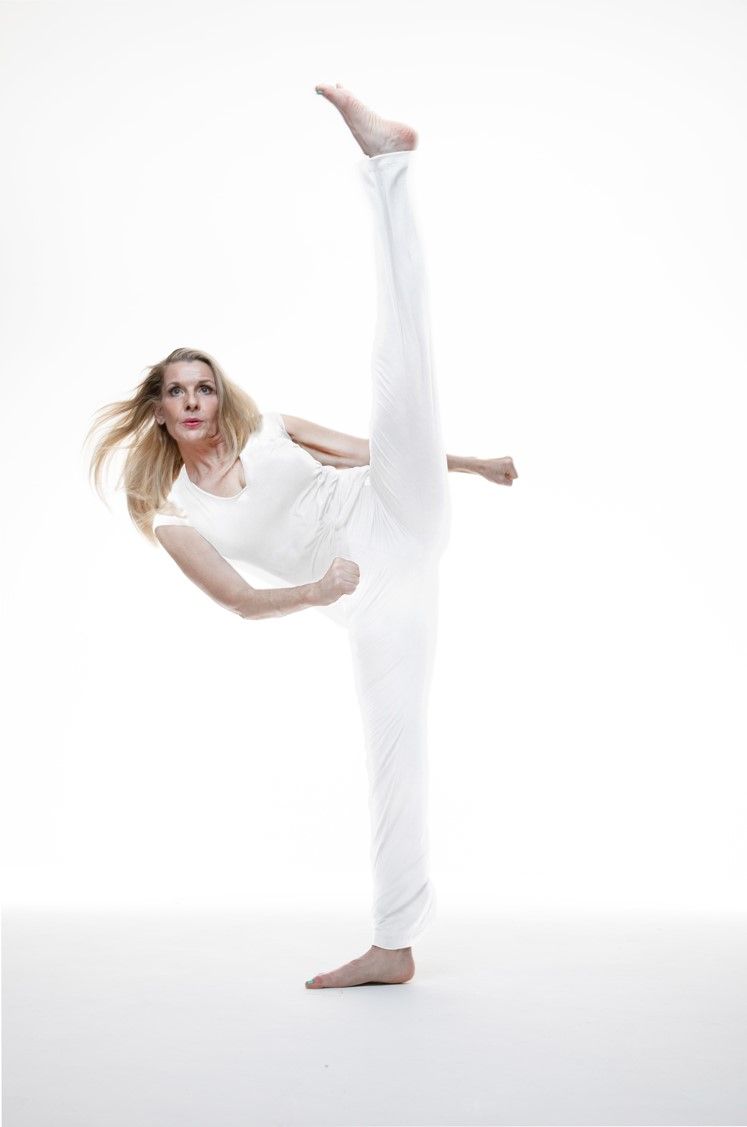 STACEY NEMOUR



Stacey is a world-renowned flexibility master. She has been an International flexibility coach to top athletes: Olympians, professional dancers, Cirque Du Soleil performers, established actors, UFC champion Victor Belfort and Carlson Gracie Team and more! For 3 decades she has touched the lives of thousands of athletes and individuals who want better posture, range of motion, injury rehab, injury prevention and be competition ready. to live out their wildest dreams in their art or sports performance.
She has been an action actress: including guest lead on Power Rangers and motion capture video games using her understanding of how to maximize range of motion with perfect alignment. She has contributed over 30+ articles to the Huffington Post and has been featured in many publications. Including five issues of Kung Fu magazine.
Stacey began her career by achieving a black belt in Kung Fu. Flexibility coaching found her when top athletes and performers sought her out after seeing her kicking with spectacular range of motion. Stacey specializes in mind-body-spirit flexibility training to unleash the highest potential within every individual that follows her step-by-step proven system. Her extensive experience is highlighted in these courses, designed to deliver the results she is know for.
How To Get Highest Results
Preview of how Stacey sets the tone to get the most out of her flexibility programs

Want To Get Flexible Without Pain:

If you are not familiar with my work - My authenticated flexibility training system is used Internationally by the pro-athletes, ballerinas, Cirque du Soleil performers, UFC champions, actors to perform at highest potential, clear pain, and injuries. Take advantage of my 3 decades of transformational flexibility mastery changing the flexibility trajectory of thousands from across the globe from beginner to advanced. In my flexibility classes for beginners, I will show you exactly how to be flexible without pain.


Many of my clients and course members have tried many healing modalities before finding me and were about to give up. Then after working with them or via training with my online flexibility program for beginners just one time they are shocked at how quickly they progressed and send me flexibility before and after pictures. It is incredibly rewarding to offer the solution and help change the trajectory of their sports performance and life. For yoga lovers frustrated by not being flexible enough to get into the poses- is also the key to finally experience yoga flexibility before and after tangible results.


If You Are In Pain While Stretching:


That is a clear indicator that you are not stretching correctly. One of the most overlooked solutions is performing stretches in the right sequence. The magic is in details revealed in this flexibility program for beginners that you will not find anywhere else.
Created with