Martial Arts Flexibility Master Class Series 22 Intensive Programs
Black Friday Starts Now 40% OFF All Bundle Series & Courses Enter Code @ Checkout: results
*Low Payment Installment Option Available
@ Checkout.
*Proven Trusted Breakthrough Flexibility System
*Easy to follow

*Courses don't expire


*Go at your own pace.
*Immediately Increase Flexibility


*Learn How to do All Splits

*Breathe Life into the Body Temple
*Improve Range of Motion
*Clear Pain & Stiffness
*Perform with Clean Alignment
*Kick with Power & Good Technique
*Avoid Unnecessary Surgeries
Best Preparation for: *Belt Tests *Stunt Work *Competitions *Film & TV Roles *Perform at your Highest Capacity
Photo Credit of Stacey: Tony Donaldson
Interactive courses to type in questions to Stacey at any time
Easy Low Payment Installments Option Available At Checkout
Stacey shares the benefits of this transformational series. Tap photo to view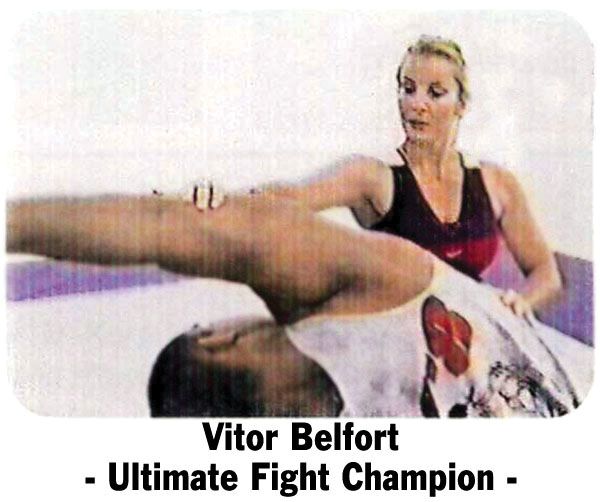 Stacey was flexibility coach to UFC Champion Vitor Belfort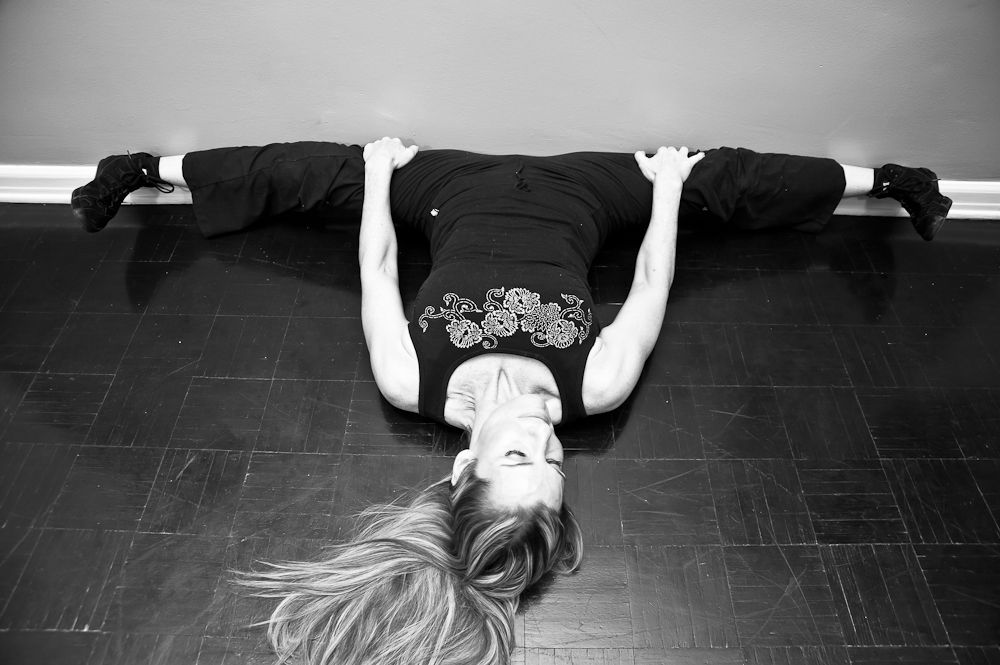 ​Stacey Photographed by Greg Lynch JR. © Kung Fu Tai Chi Magazine
New Course Included "Advanced Flexibility Intensive" For Figure Skaters & Martial Artists

Stacey guides Noelle who is on the USA TDK Team & Figure Skater through this deep game-changing intensive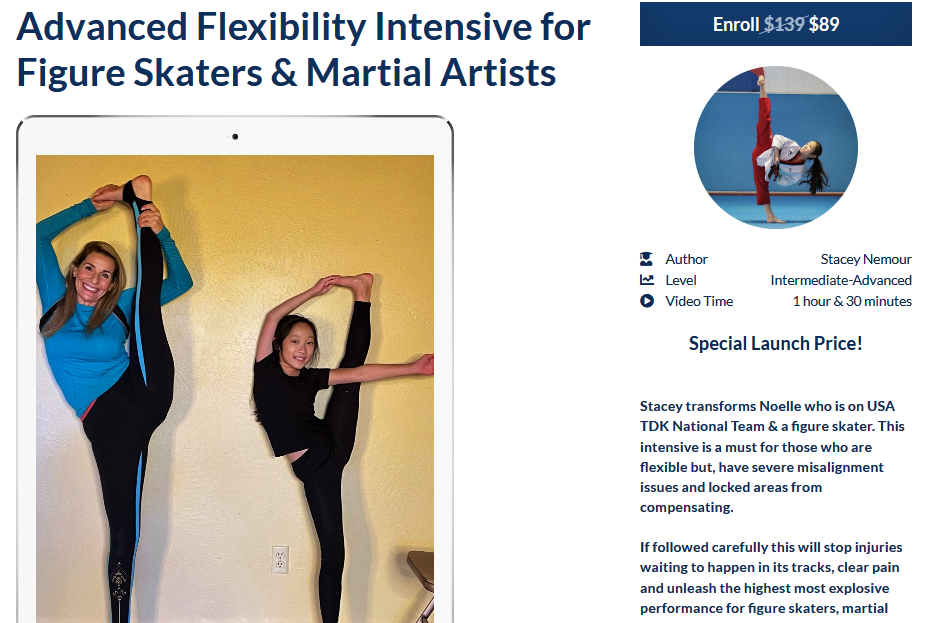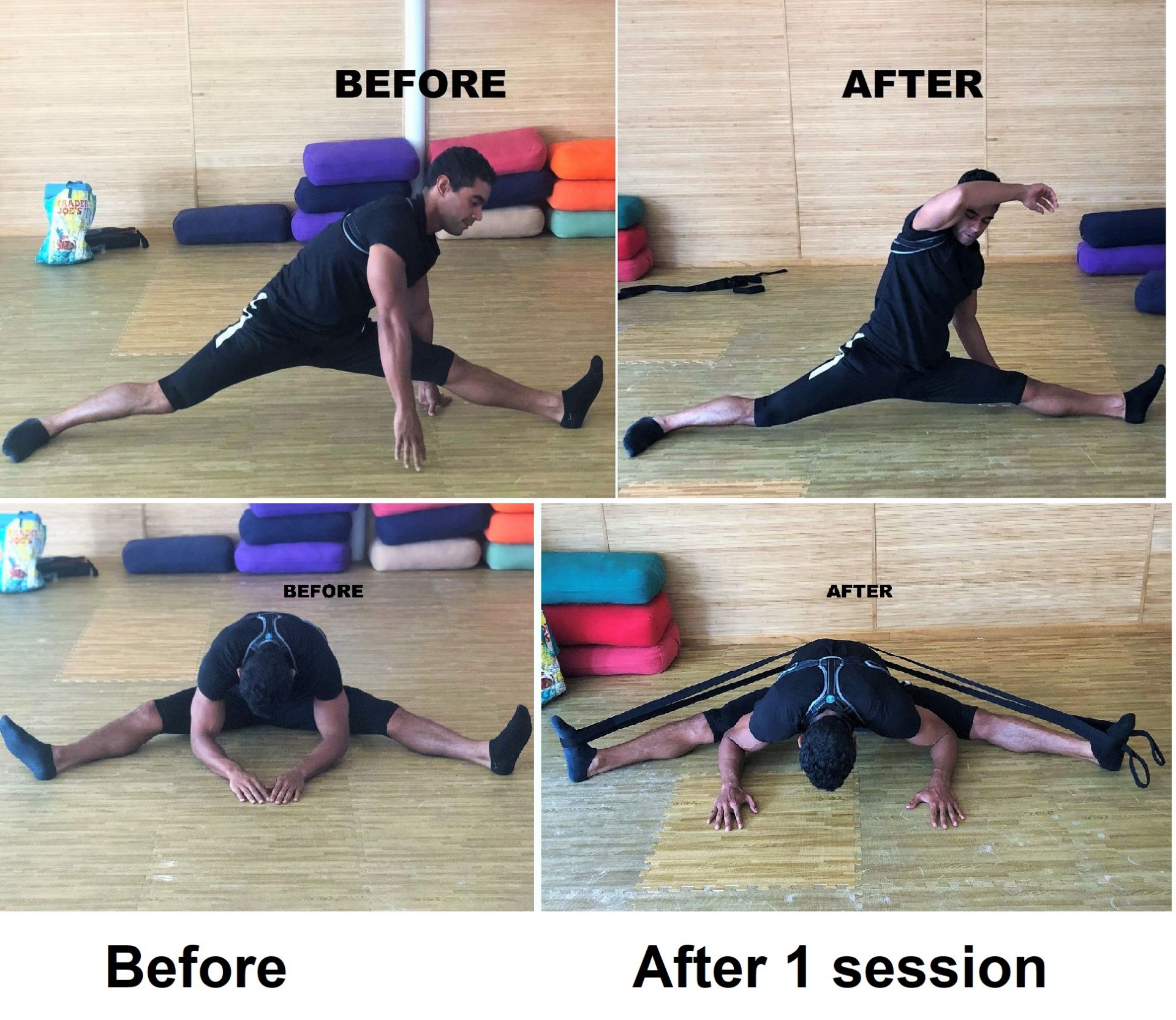 Results in just 1 session from Stacey's session with Actor / Martial Artist Nick Sagar Known for Ill Manors, Queen of the South, The Have & Have Nots, Shadow Hunters, Run The World on Starz & The Princess Switch: Switched Again, Switched 3 On Netflix. Nick is using Stacey Posture Strap & Stacey Stretch Strap®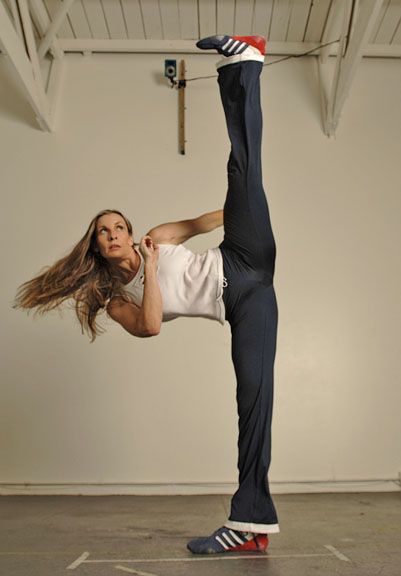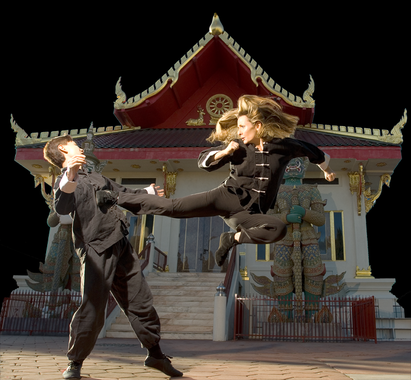 Besides being a flexibility guru Stacey is a professional Martial Artist with over 30 years experience including coaching UFC Champion Vitor Belfore & The Calrson Gracie Team. For the 2 years Stacey worked with them Vitor won every UFC. She has also been a guest lead on Power Rangers, a stunt double for Cybil Shepard & performed in Motion Capture Projects. She has been featured in 5 issues of Kung Fu Magazine & contributed articles on about martial arts in the Huffington Post photo credit: Tony Donaldson
"Love Stacey Nemour. All very simple stretches, no fluff. Would highly recommend her "stretching for the least flexible people on the planet" 😁:
Delia Lowery
Course Testimonial: " I am 43 and don't want to injure myself. I've danced my whole life, however started ballet 3 years ago after years of dancing Flamenco:
Thank you thank you thank you!!! I went through "Flexibility At Any Age" In the Beginners Bundle Series last night and I'm hooked! I even woke up feeling better and can't wait to do more! I'm excited to get my husband and son on board with me. I'm going to order three Stacey Stretch Straps for us today."
Kerry Hanneman
I have purchased "Secrets Of Splits & Flexibility" 1. Which is great - my son that hates stretching loves it! Thank You for your help.
Dwayne Battles
Martial Arts Instructor
Hello Stacey, I regularly do "Secrets Of Splits & Flexibility" to help with my karate. My kicking is better than ever and recently going to my 3rd. dan. I just want to say many thanks, you're a star!
Johnathan Edwards

Testimonial:

AS A MARTIAL ARTIST & ACTION FILM PERFORMER, A VERY HIGH LEVEL OF FLEXIBILITY IS ABSOLUTELY CRITICAL. I AM FORTUNATE TO HAVE ACCESS TO SOME OF THE FINEST MARTIAL ARTS COACHES AND INSTRUCTORS IN THE WORLD. WHEN I WAS SEARCHING FOR A FLEXIBILITY COACH, I IMMEDIATELY RECOGNIZED THAT STACEY WAS WORLD CLASS. AS AN ACCOMPLISHED MARTIAL ARTIST HERSELF SHE UNDERSTANDS WHAT IS NEEDED TO IMPROVE KICKS WITH PROPER TECHNIQUE. HER TEACHING METHODS ARE REMARKABLY EFFECTIVE. THE TECHNIQUES I LEARNED FROM STACEY CAN BE PUT INTO PRACTICE IMMEDIATELY, NO MATTER WHETHER YOU ARE A BEGINNER OR EXPERT. I MADE TREMENDOUS PROGRESS WITHIN THE FIRST HOUR OF WORKING WITH STACEY. IS WITHOUT QUESTION THE PERSON I WILL CONTINUE TO TURN TO FOR INCREASING FLEXIBILITY AND RANGE OF MOTION !!! ​AARON MCLAUGHLIN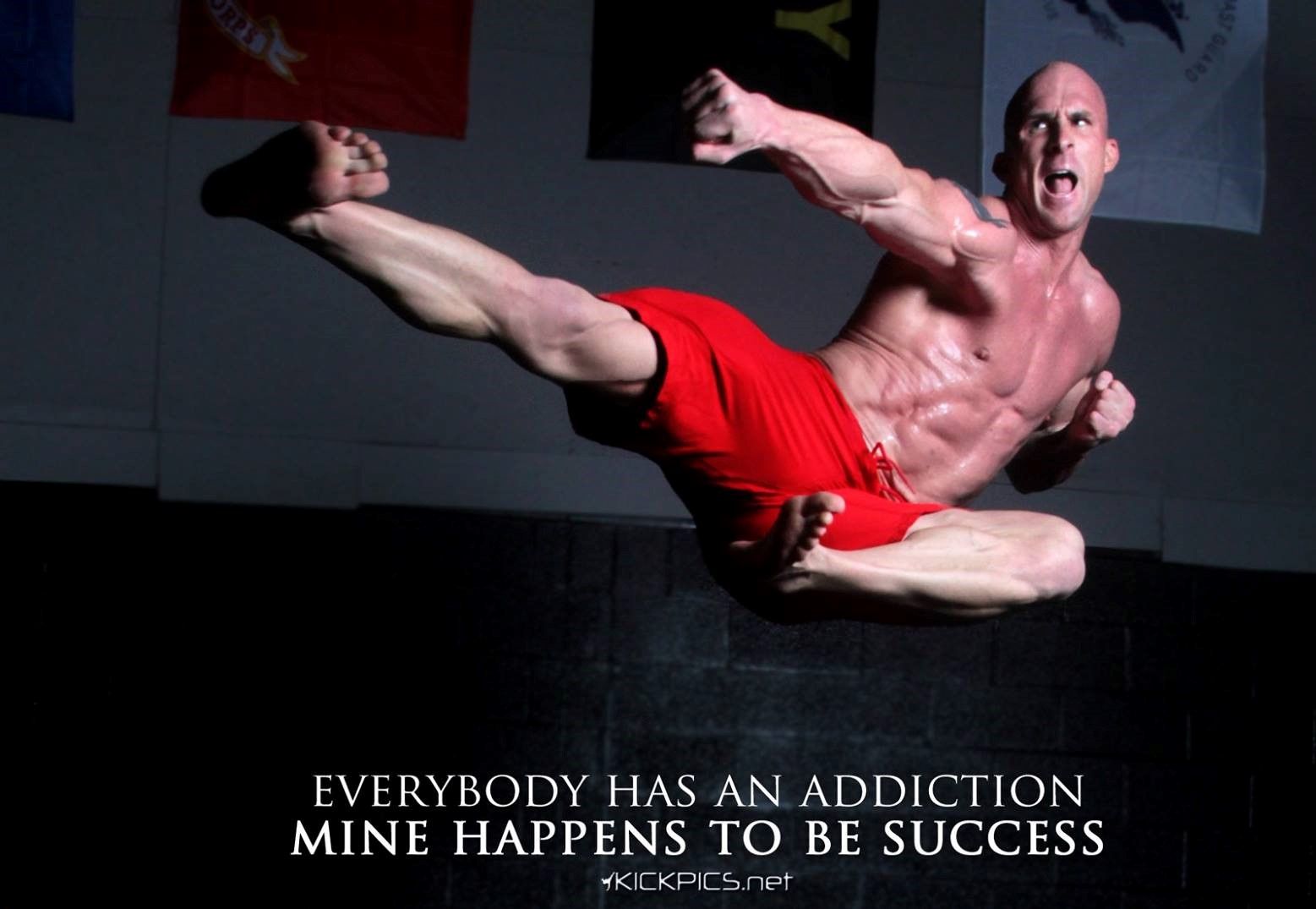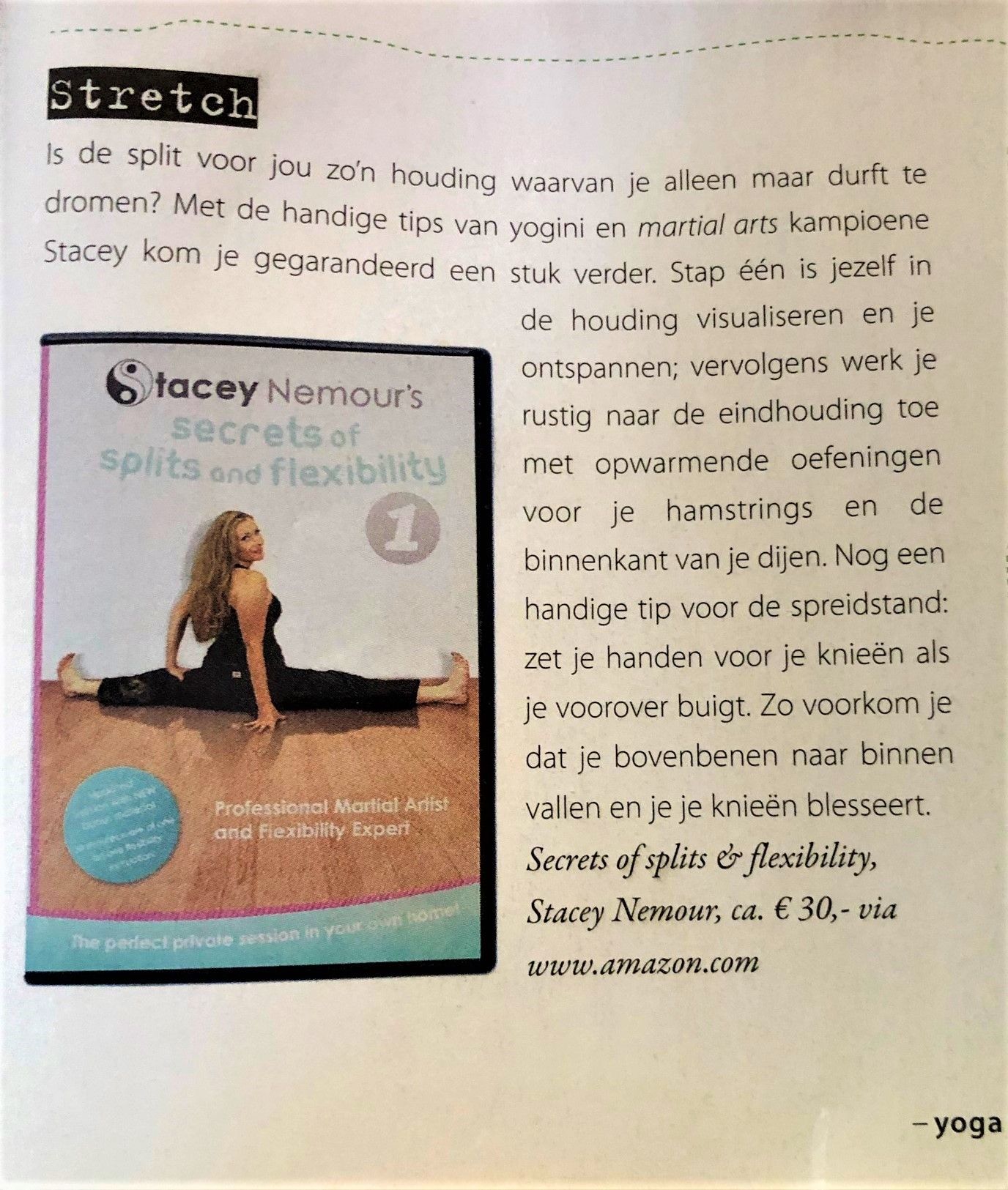 Review: Dutch Yoga Magazine




Is the splits for you so overwhelming that you only dare to dream of?

With the handy tips from yogini and martial artist Stacey you are guaranteed to go a lot further.

Step one is visualizing yourself in the splits and relaxing; then through the program you slowly work your way up to the final splits positions

with warm-up exercises for your hamstrings and the inner thighs.

Another handy tip for the straddle stretch position: put your hands in front of your knees when you bend forward-This way you prevent your thighs from falling in and injuring your knees.
New Course Included "End Lack of Flexibility" Featuring actress Michelle Greene

Stacey guides Emmy nominated actress from L.A. Law who is ageless 60 years old to astounding new levels of flexibility & mobility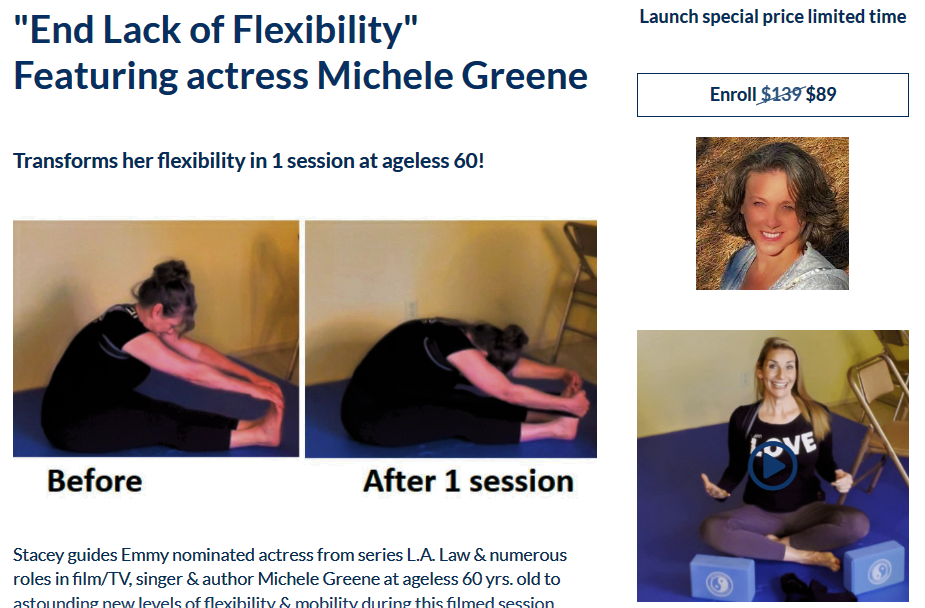 New Course "Transformational Flexibility Mastery" Beginners guide for gymnastics & martial arts

Actual Before/After Results that happened organically during this filmed private session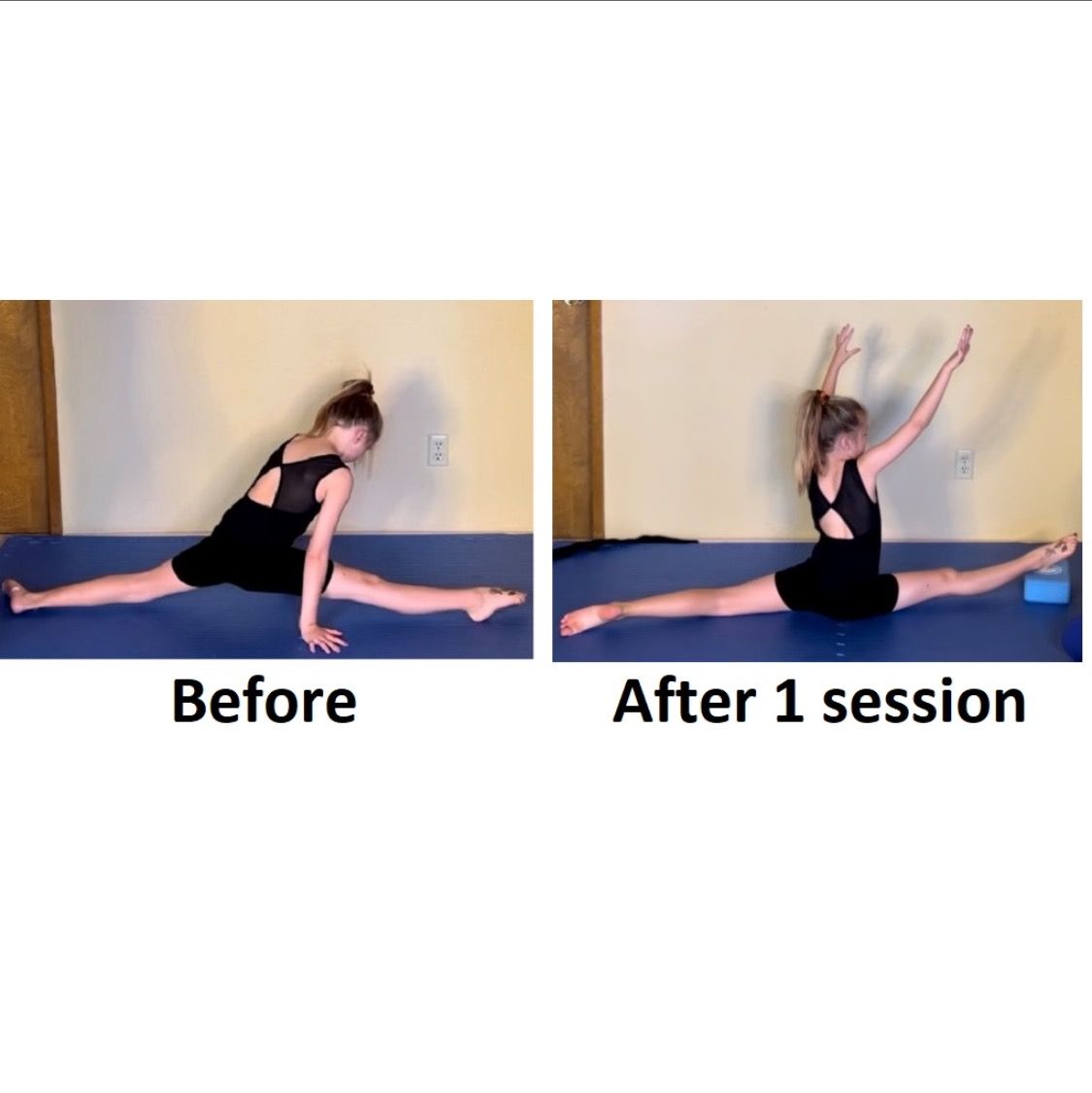 Martial Arts Flexibility Master Class Series
\Learnworlds\Codeneurons\Pages\ZoneRenderers\CourseCards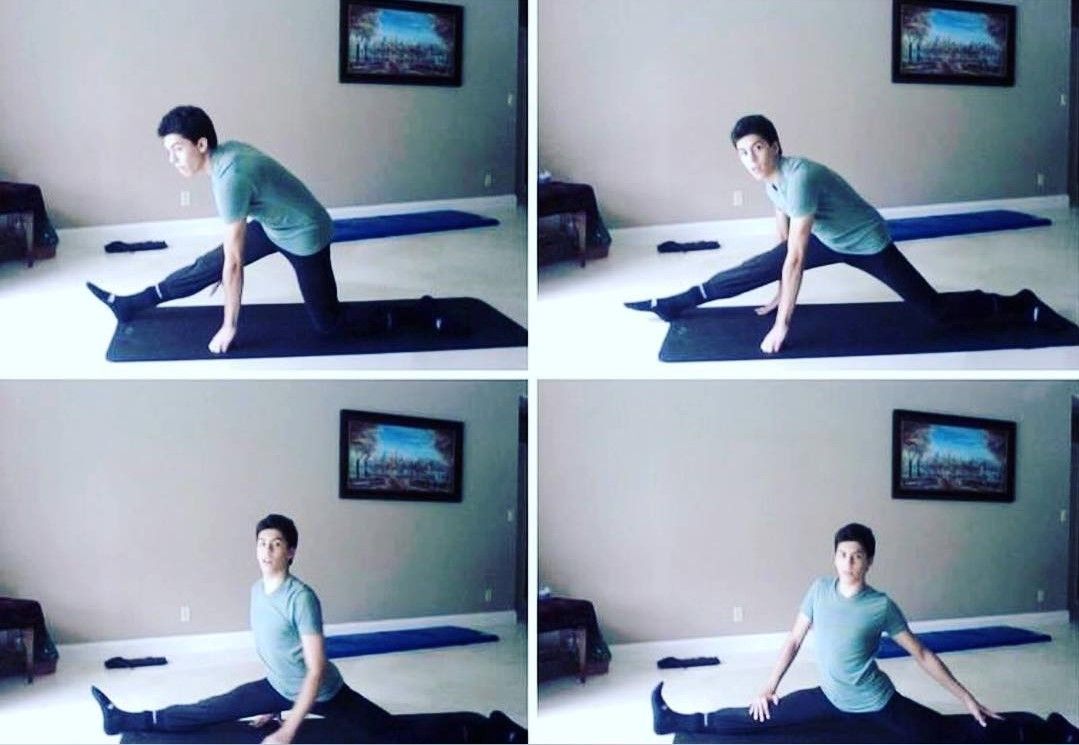 Before & after results from "Secrets of Splits & Flexibility" program

"Thank you so much for everything "Secrets of Splits & Flexibility" has truly transformed me

Testimonial:

After going through "Secrets of Splits & Flexibility" I finally got my splits!

Justin Pumillo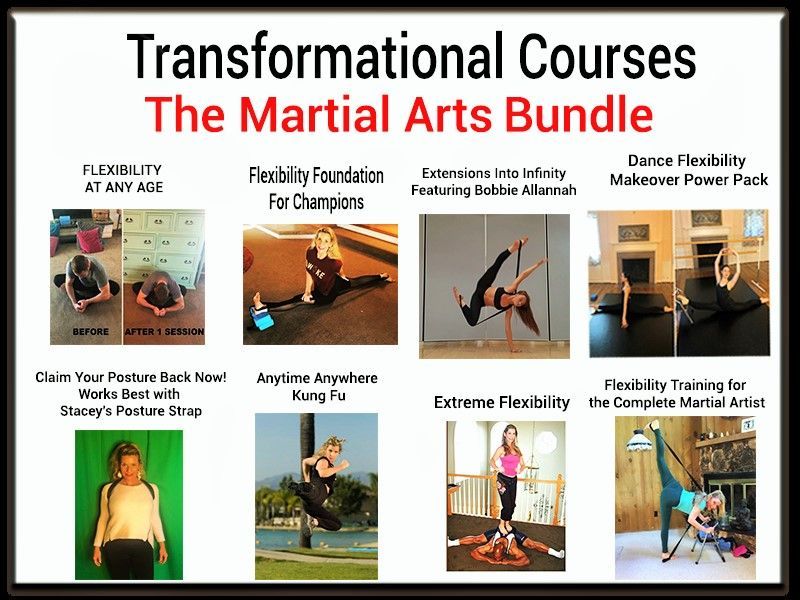 U
pdated to include 18 Powerful Courses! Whether you are a professional martial artist, performer, action actor, stunt man, MMA / UFC fighter, student, Sifu instructor, or in a physical profession. All martial arts cannot be performed with proper alignment and good form until you have the flexibility to carry out the proper technique.

The reason many Kung Fu Kicks are practiced kicking high is to develop the flexibility, strength, precision, speed and control to be able to put your legs anywhere. These programs will also help clear pain, speed up healing process and decrease chance of future injuries. Some of the programs finish a balancing meditation and help you program to align with your highest visions of yourself.

The Stacey Posture Strap & Stacey Stretch St
r
ap are highly recommended for stretching, kicking to create masterful muscle memory including balance and stability. After you have trained with the flexibility makeover programs your mind and body will be prepared to increase range of motion in "Flexibility Training for the Complete Martial Artist"
Testimonial:

"Hi, i am Eva, Modern Dancer from Germany. I just watched your program 'Secrets of splits and flexibility 1'. You Made my day!! Not only because of the great exercises, but because of your great words in the Interview. This came to me just in the right time, because i had a huge crisis after my dad died two months ago. I thought about starting to meditate to visualize my goals, and after you said exactly that, I felt that this must be true. Thank you so much for being so positive!! It just gave me a lot of energy.... I feel happy and inspired. Thank you so much...!!
Big hug from Germany.
Eva Von Eben"
Testimonial

"Your videos and knowledge is unparalleled to anything I've been taught as a black belt in taekwondo. I've made so much progress getting back into it :) thank you!
Patrick Hall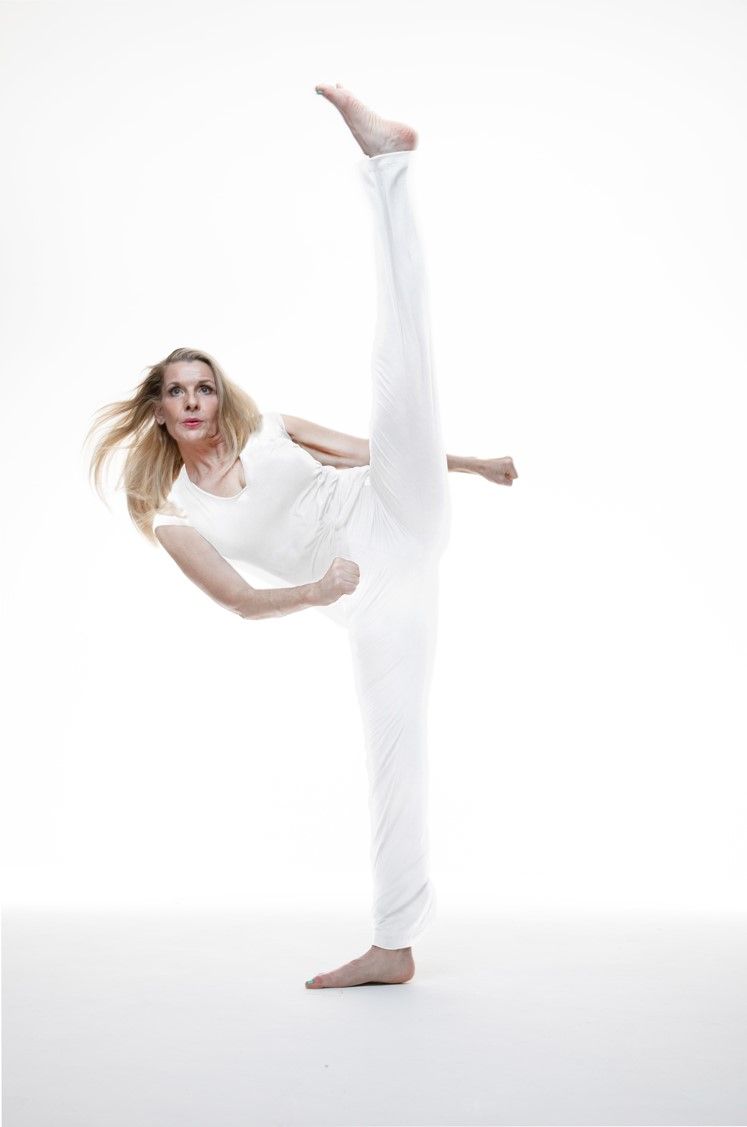 Stacey is a world-renowned flexibility master. She has been an International flexibility coach to top athletes: Olympians, professional dancers, Cirque Du Soleil performers, established actors, UFC champion Victor Belfort and Carlson Gracie Team and more! For 3 decades she has touched the lives of thousands of athletes and individuals who want better posture, range of motion, injury rehab, injury prevention and be competition ready. to live out their wildest dreams in their art or sports performance.
She has been an action actress: including guest lead on Power Rangers and motion capture video games using her understanding of how to maximize range of motion with perfect alignment. She has contributed over 30+ articles to the Huffington Post and has been featured in many publications. Including five issues of Kung Fu magazine.
Stacey began her career by achieving a black belt in Kung Fu. Flexibility coaching found her when top athletes and performers sought her out after seeing her kicking with spectacular range of motion. Stacey specializes in mind-body-spirit flexibility training to unleash the highest potential within every individual that follows her step-by-step proven system. Her extensive experience is highlighted in these courses, designed to deliver the results she is know for.
How To Get The Highest Results
Preview of how Stacey sets the tone to get the most out of her flexibility programs!
Sign Up To Receive 6 Free Flexibility Mini-Courses & Tips
How to improve Flexibility for Martial Arts


Do you practice drilling kicks on your own and in classes but, find there is little, or no progress and it is painful? The only issue is clearly a lack of the correct flexibility exercises for martial arts. Once you have tapped into how to get more flexible for martial arts your overall performance will immensely improve.


If one is doing martial arts home study course without flexibility stretching for martial arts, there's is an imbalance in the body. This happens with just training with a martial arts online course (or going to a martial arts class) if regular karate exercises for flexibility training is not included in weekly regimen. The quads, back, hips and calf muscles can get dangerously tight.


When martial artists perform the side kick, it is not natural to the body to turn the hip over this may cause the low back and outer hip area to get tighter and tighter. Which can lead to pain and limit your training. Most people don't know how to thoroughly stretch those locked areas. Once you know the proper routine of stretches the pain leaves and the kicks go even higher and with more ease
!


My mission in is to show you exactly how to improve flexibility for martial arts in these online courses. When I work with clients or produce a course, I show how to increase leg flexibility for martial arts in the perfect sequence needed to transform your range of motion.
Guaranteed Security using one of the most advanced encrypted systems on the market.
The information in this page is being processed and encrypted securely using industry-leading encryption and fraud prevention tools.
Created with