Photo credit of Stacey kicking: tdphoto.com
The good news is that anyone at any age can improve kicking flexibility. How? Simply start right from where you are now and build on it day by day. If you don't know how to start, read how to improve kicking flexibility. Take advantage of my three decades as a flexibility guru/martial artist scroll down for my videos I did for Kung Fu Magazine on how to increase flexibility for perfect kicks.

Do you practice drilling kicks on your own and in classes but, find there is little or no progress and it is painful? The only issue is clearly a lack of the correct flexibility exercises for martial arts. Once you have tapped into how to get more flexible for martial arts your overall performance will immensely improve.

How to Improve Kicking Flexibility - Important Tips:

*
J
ust stretching and increasing flexibility on the ground touching toes, doing splits is a starting point but, not enough to increase kicking height and range of motion. The next part is flexibility training to develop the core strength needed to have control while kicking.
*Do not drill kicks without being warmed up. This is dangerous and counterproductive.
*After going through a comprehensive flexibility program and the body is warmed up is the time to implement (a swinging motion) of leg kicks on the floor using ankle weights or my
Stacey Stretch Strap
for resistance. Then practice this standing.
* Have back against the wall to practice holding leg up
*Standing up use a bar or countertop to hold onto while you drill high kicks. I have included some free video links below on how to do this.
*The key to remember is to lift knee up first as high as you possibly can while being mindful of not letting it drop down at all, because wherever the knee is pointing will be the exact height of the kick. Drill this very slowly while holding a bar or countertop using light ankle weights or Stacey Stretch Strap. This is how to immediately improve kicking flexibility because this drill creates new muscle memory
*Exhale on the effort of the kick this will not only shoot the leg up higher and faster but, give it power.
*Use walls to hold leg up and lean on chair for balance
*When going into new territory of establishing core strength, balance and leg going higher introduce the new move come out of it then get back in rather than forcing and straining the new position. Introduce pull out, let it process and go back in!
*Good posture is essential to not lose balance while kicking If practicing hunched over it will reinforce serious alignment issues that may result in setbacks and injuries. I wear my
Stacey Posture Strap
while kicking to keep good balance and protect my shoulders while kicking. Here is a routine I did for Kung Fu Magazine to accompany the article:

Disclaimer: Speak to a professional for all your health needs and seek their counsel. Children need to be under adult supervision at all times. We disclaim all liability for any physical harm resulting from the information on this website and affiliates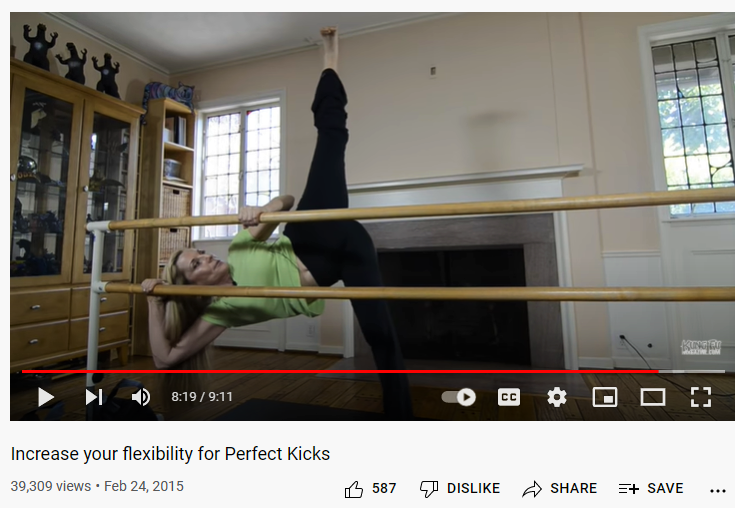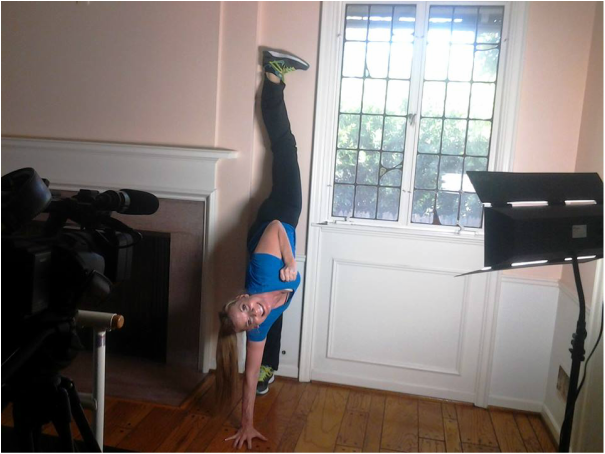 Benefits of Increasing Flexibility
Flexibility is key to working out at your highest level because it increases the range of motion. Most injuries are due to a lack of flexibility.


Stretching is a critical tool in anti-aging because by increasing flexibility one loses that hunched-over posture and appears more youthful -- gaining the ability to perform kicks with fluidity and ease.
Doing just one or two stretches is not enough because everything is connected. Stretching and strengthening the entire body will create balance that will leave you feeling free and open. It's sad how many injuries, unnecessary surgeries and use of pain medication could be prevented if people only knew how to properly stretch themselves.
The Stronger You Get the Tighter You Get.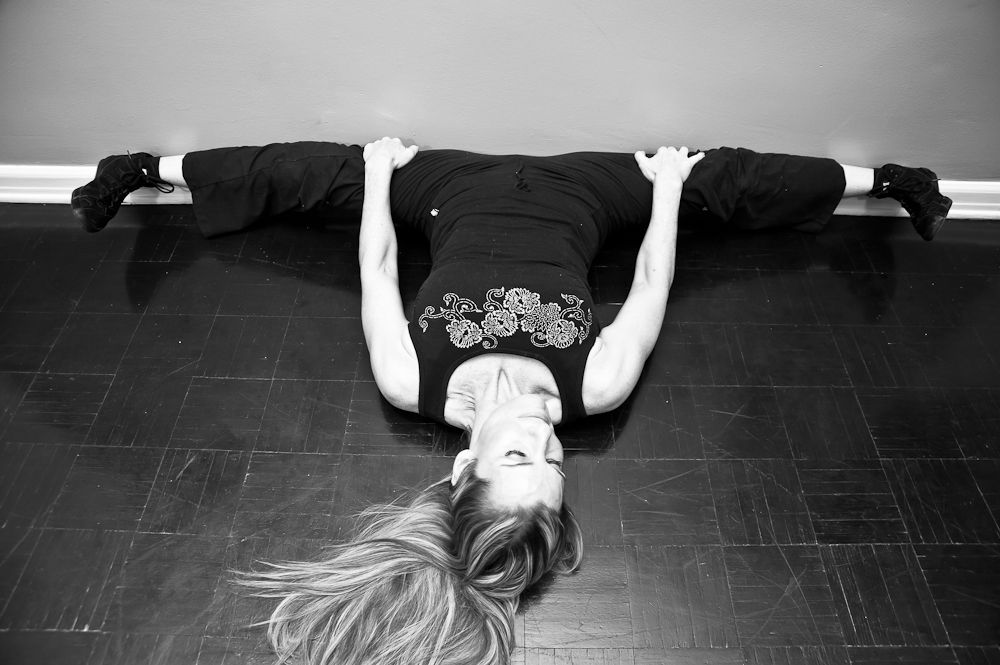 Stacey in Kung Fu Magazine Photo : Greg Lynch Jr.
If one is doing martial arts home study course without flexibility stretching for martial arts, there's is an imbalance in the body. This happens with just training with a martial arts online course (or going to a martial arts class) if regular karate exercises for flexibility training is not included in weekly regimen. The quads, back, hips and calf muscles can get dangerously tight.
When martial artists perform the side kick, it is not natural to the body to turn the hip over this may cause the low back and outer hip area to get tighter and tighter. Which can lead to pain and limit your training. Most people don't know how to thoroughly stretch those locked areas. Once you know the proper routine of stretches the pain leaves and the kicks go even higher and with more ease!
It's important to know that practicing stretches in a specific order can help the body to open faster. For example, before you can effectively stretch the hamstrings and the line up into lower back, one must stretch the feet and calves thoroughly first.
My mission in is to show you exactly how to improve flexibility for martial arts in my online courses. When I work with clients or produce a course, I show how to increase leg flexibility for martial arts in the perfect sequence needed to transform your range of motion:
1. Upper body (It's important not to forget about stretching the chest, shoulders, upper back)
2. Lower legs/Calves/Feet
3. Quadriceps
4. Waist
5. Hips/Buttocks
6. Inner Thighs/Groin area
7. Hamstrings
8. Straddle Stretch
9. Splits
10. Backbend (for the more advanced)
Now you are ready to safely drill kicks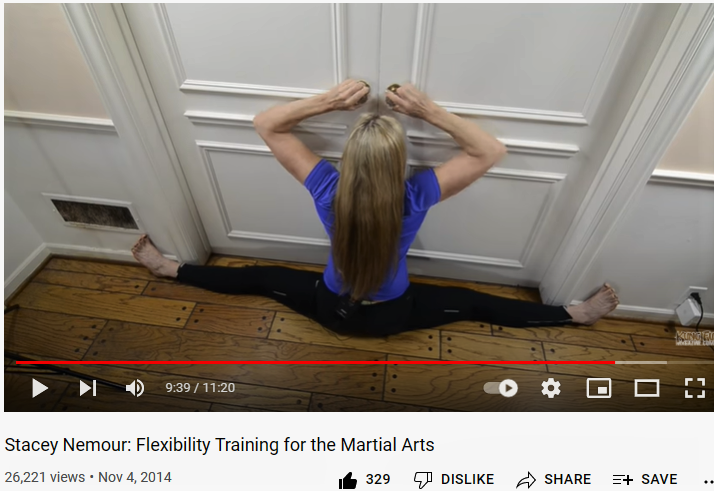 I regularly witness people of any age dramatically improve flexibility for kicking, continually progressing and training at peak levels, when they regularly practice the following routines:
*Consistent flexibility training -real flexibility training is a deep workout within itself.


*Include regular stretching before and after kicking, it can help keep your body supple and youthful for the rest of your life!


*Meditation and visualization are everything. If you can see in your imagination exactly how you want to perform your body will process and start training internally between physical training sessions


*Cross-training – will give over used muscles a chance to recover


*Regular maintenance of skills in chosen sport, dance, performing stunts that requires a flexible body for kicking - while working on mastering something new


*Supplements (everyone has different needs; for my body calcium, vitamin D, B and Chlorella is a must)


*Sleep - this is when our body repairs muscles and processes new information


It would also be valuable wherever you study or perform martial arts, dance, and circus arts to make sure there is a proper warm-up and cool down lead by a professional who has already achieved a healthy level of flexibility. The main issue here is that this is the missing element in most training facilities, teams or dojos and dance studios. For maximum results do one of my programs before practice and you will be shocked by the improvement.


Athletes that are ready to break out of the status quo contact me and
book a private
or enroll in my
online flexibility courses
. This is a valuable investment gift into your health that keeps on giving. If you include regular stretching before and after training, it can help keep your body youthful for the rest of your life! My flexibility system shows the exact perfect way to stretch your body and take it further than you can on your own.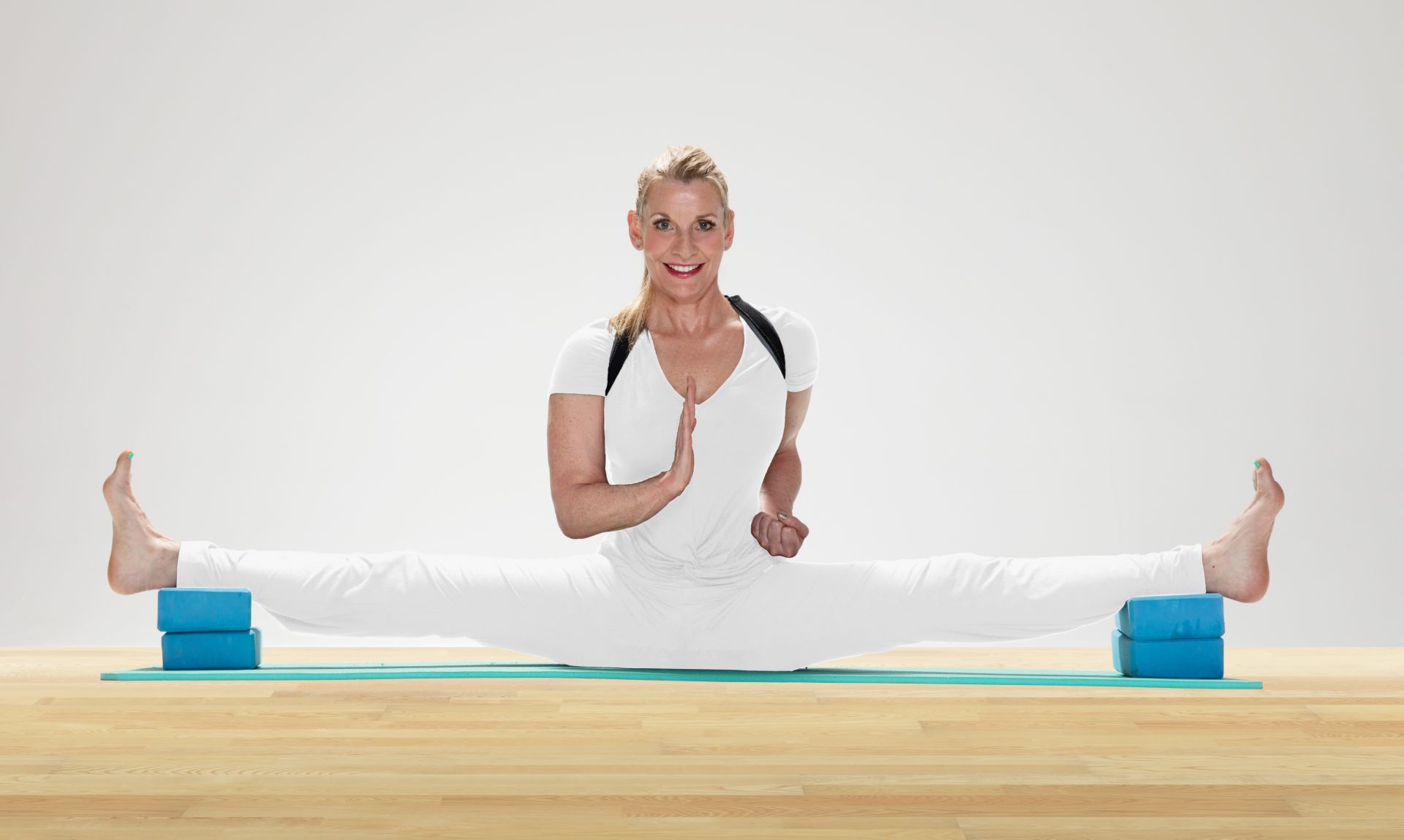 Stacey Stretch Strap, Stacey Posture Strap, Yoga Blocks, & Calf Master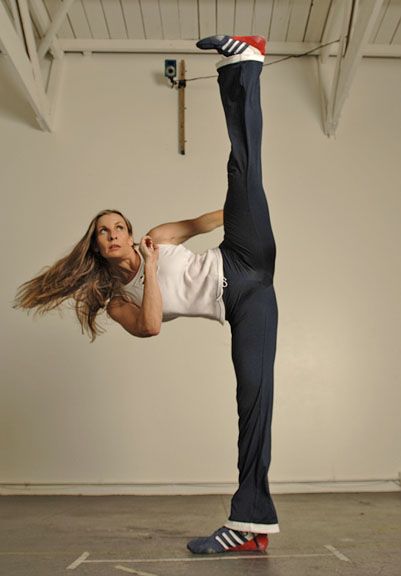 Photo credit of Stacey: tdphoto.com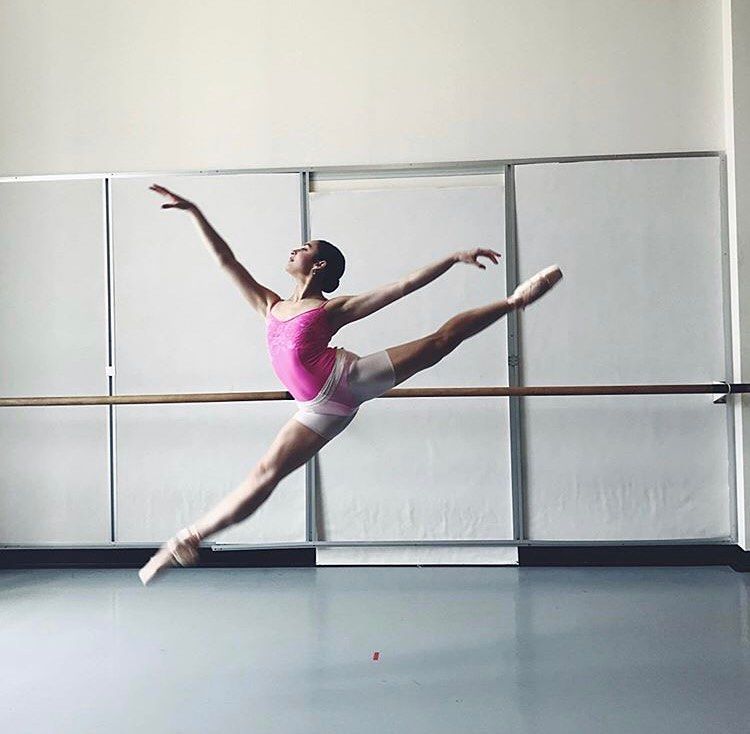 Stacey guides ballet dancer Malena Ani in 2 of the courses in the series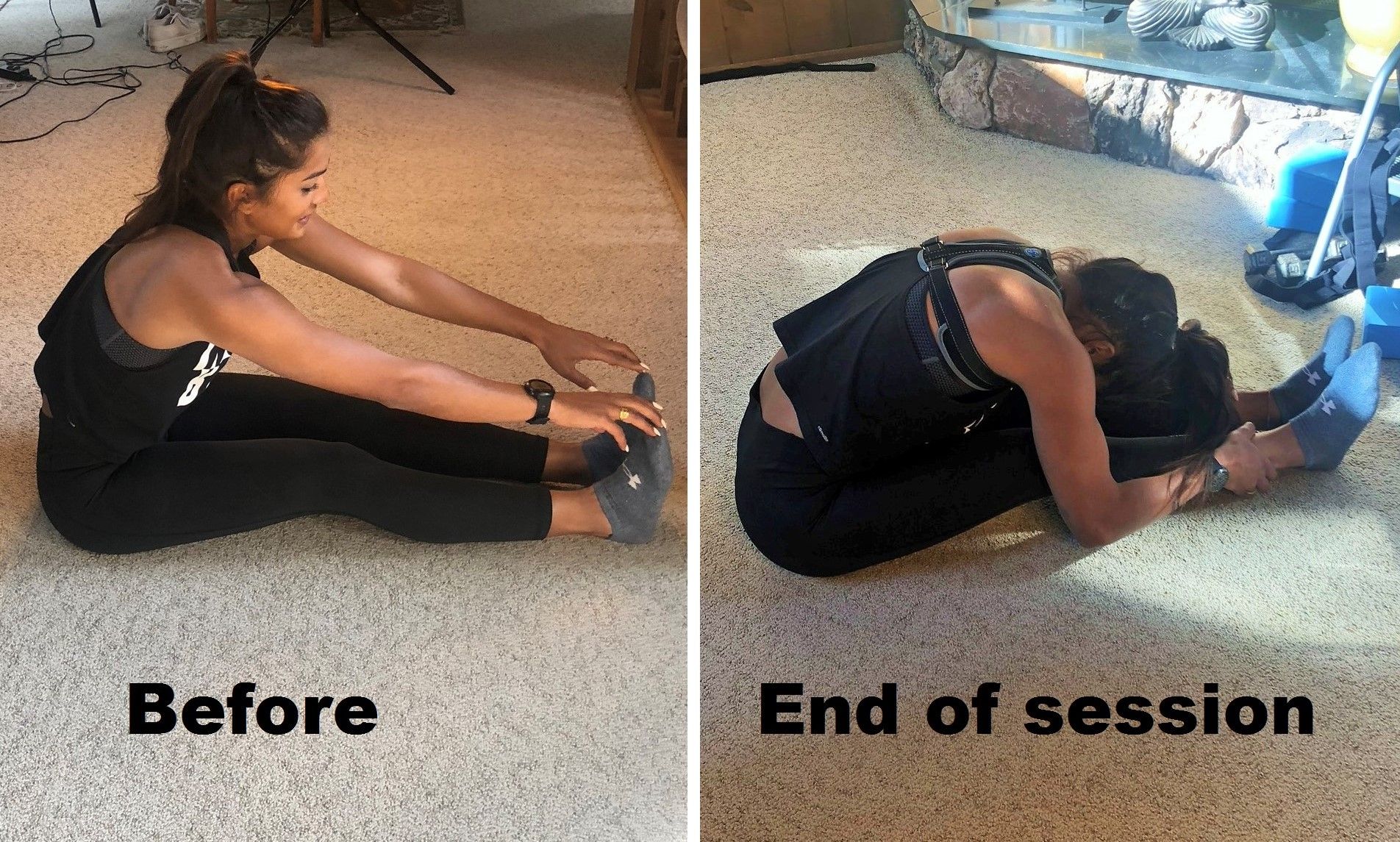 Stacey working with Team Canada Track and Field and Model Divya Biswal
Created with