During my private flexibility session via Skype with Isabelle
I will lay out my effective Gymnastics Workout at Home for you with 10 exercises that you can do right now! I have designed this for beginners to advanced. These exercises should not be done until after stretching to prepare the body to safely perform these drills. It is essential to know the proper way of doing all the exercises, to avoid injuries.

Rest assured, I have been a flexibility master, martial artist, and gymnastic coach for three decades internationally to the top athletes and Olympians including super-duper beginners to the off the charts extremely advanced performers.
Why do this work out? This gymnastics workout is ideal for building strength and agility as well as flexibility. It is also ideal for developing balance, control, coordination, and core stability. If you're having trouble mastering some gymnastics moves, my gymnastics workout is designed to build the necessary strength and flexibility necessary to improve your performance. Above all, I will show you how to do this with clean alignment, so you don't compensate and develop bad form. This protects the body from injuries and the body creating a pattern of harmful muscle memory.
Example of one of thousands of before and after results my flexibility training system delivers every time. During my private session via Skype with Cailin. Results in 1 session
Getting Started:
Before we get started, make sure to stretch the right way to maximize progress. It is of the utmost importance to complete a proper warm up before each gymnastics training session. I have written a previous post showing you how to properly warm up for gymnastics that you can view here

Also Read: 7 Best Stretches to Improve Flexibility Now

Safety first:
If you are feeling unsure about any of the following exercises have someone there to spot you or skip to the next exercise. If you have any unhealed pain or injuries check with your doctor before trying these exercises. If you feel you need more one on one private coaching assistance to tailor a program to your exact needs here is the link to information about setting up a private with me in person or via Skype.


Whenever learning a new move start by visualizing yourself doing it perfectly and then go into slowly. If that feels like enough of a good introduction your body will process this until next practice session. What usually happens is next time you do the move you will find it is much easier!
Disclaimer:
To avoid injury, you will want to check with your doctor before beginning any exercise program. Prepare for training with these gymnastics conditioning exercises by completely warming up beforehand. Speak to a professional for all your health needs and seek their counsel. Children need to be always under adult supervision. We disclaim all liability for any physical harm resulting from the information on this website. By performing any fitness exercises, you are performing them at your own risk. Stacey Nemour, Flexibility Makeover and/or associated affiliates will not be responsible or liable for any injury or harm you sustained because of this training series. By continuing to the program, you acknowledge that you have read this disclaimer and agreed.

1. Splits-After being completely warmed up. Practice both sides of front splits and the middle splits. Make sure hips are square and form is good. If splits are down and you feel ready for more start to slowly go into an over-split using one yoga block or a pillow and add on as you advance.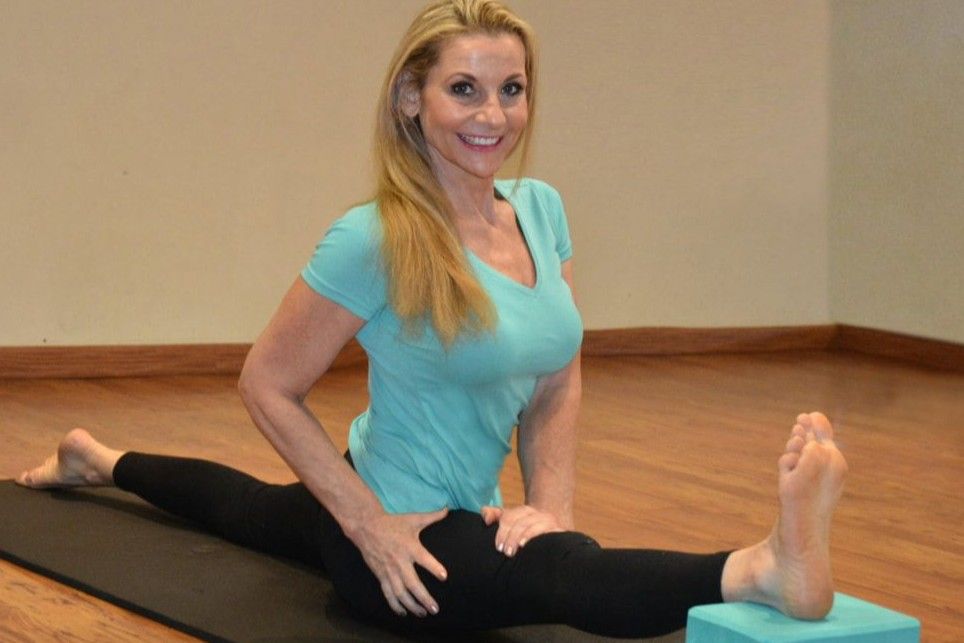 2. Handstand- Built up to holding for one minute. If you are a beginner and do not know how to do a handstand start standing (in an area with a non-slip matt with clear floor and wall space) with arms very straight and one foot in front of the other, lift the foot in front up so you may push down on as hand go to the floor and kick up. It can be just a little tiny kick and as you gain confidence kick higher up until your feet go straight up and touch the wall to support you to develop the strength and balance. Keep arms and body straight.
If you are a beginner this video will help learn to do handstand. More advanced practice holding for one minute or longer.
3. Handstand in Middle Splits- (For advanced level only)This is the reverse of what we just did. With back to the wall put your hands on the floor in front of you, and one at a time put your feet on the wall. As you walk feet up the partway slowly bring legs out to straddle and with hand push back into the wall.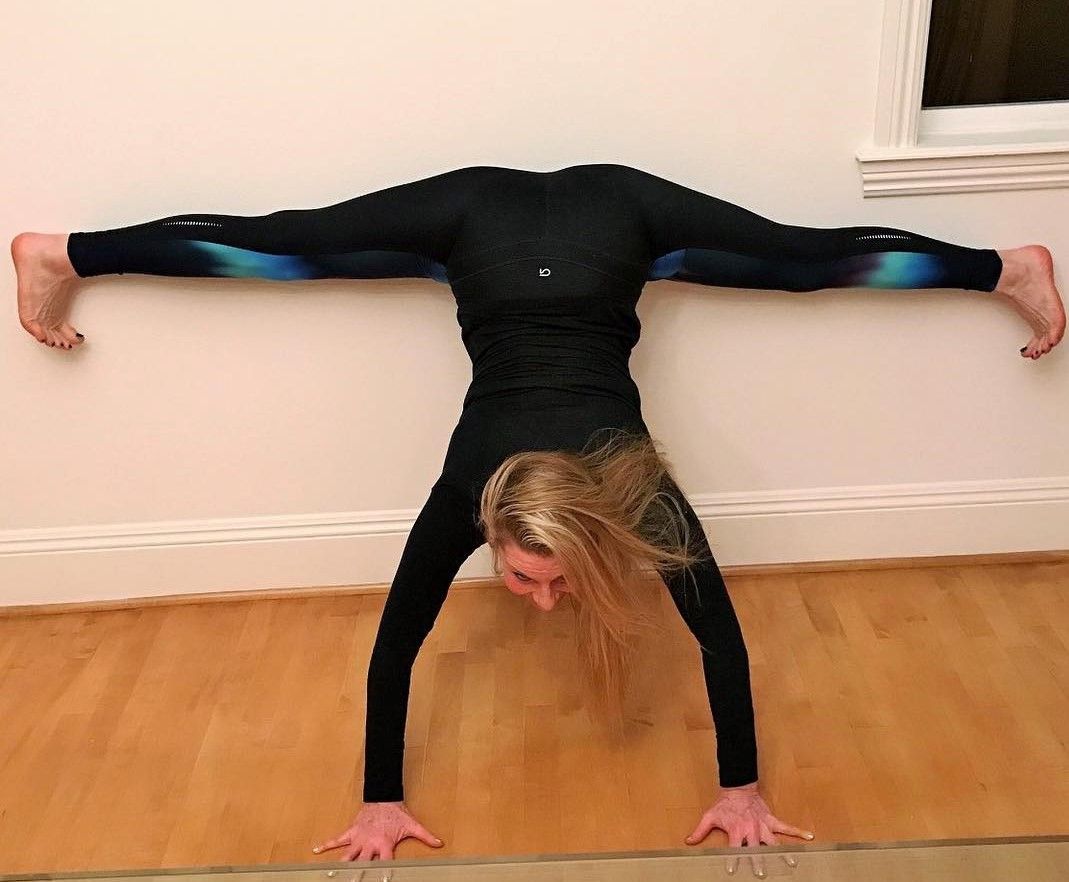 4. Cartwheels – If you can do a cartwheel already work on a one-handed cartwheel, then a running cartwheel if this all feels comfortable add a dive cartwheel punch down the leg in front and try to keep hands up as long as possible while whipping the legs around for a solid landing.
Beginners I show how to learn to do a cartwheel in this video
5. Backbend Variations- If unable to do from a standing position. Lay on floor position hands and feet then push up from the ground – Make sure not to be up on toes instead have the entire foot on floor with feet pointing straight ahead. For the more advanced- A. In a backbend lift one knee as high as possible and then slowly extend. Do both legs. Now practice lifting each hand up and balance. B. Go into backbend with head near the wall slowly bring legs together and straighten until chest is pulled into the wall push chest into the wall
Results sent in from dancer Noemi after training with

"Cheerleaders Complete Flexibility System"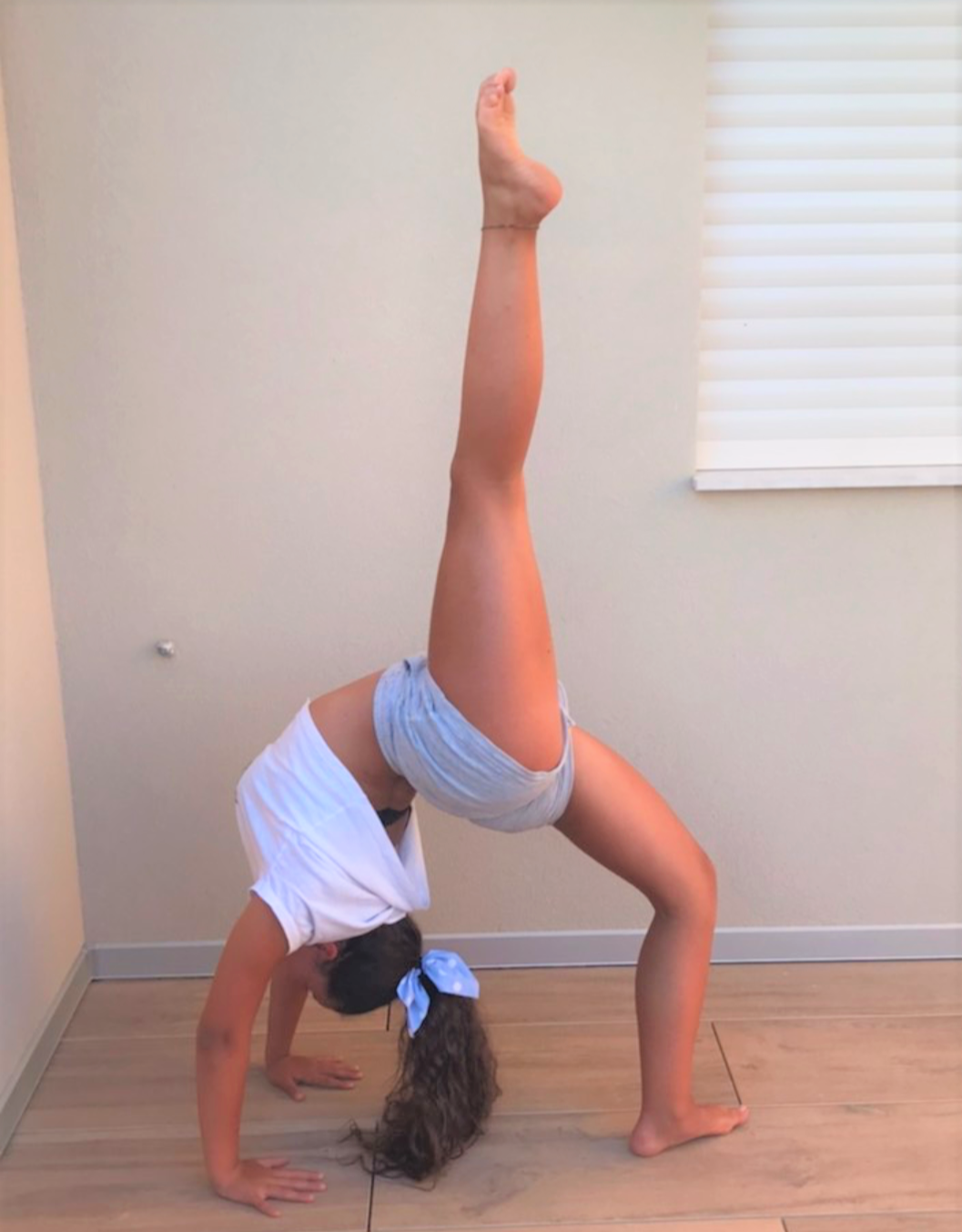 6. Jumping Drills- Start with ten continuous jumps for each set and build on that. Squat Jumps, Jumps bringing both knees up in front as high as possible, burpee's, jump on one leg for ten reps then switch.
Example of Split Jumps & Aerial from during my private flexibility training via Skype with gymnast.
7. Split Leaps- Start with eight reps of the various leaps. Exhale on the effort and go up high to extend both legs up.
During my private flexibility via Skype with Elite Gymnast Sierra preparing her for Nationals. Watch the power of adding the breath! This session was filmed & a course for you to get access the exact steps in "Flexibility Prep for Elite Gymnasts"
8. Leg Kicks- Start with eight kicks on each side of front kicks, out to side and back kicks. Hold onto a bar or sturdy counter if balance is unstable. Once you are completely stretched out you want to do a swinging motion with legs to increase range of motion.
Dancer Jen's results during just 1 private session. Here's an example of drilling leg kicks
9. Leg Holds- With back against wall for balance (if needed) bring leg up and grab foot with one hand bring it up in front as high as you comfortably can. Repeat other side. Now do the same bringing leg out to side.
For advanced level I filmed a series of 2 private sessions "Flexibility Makeover -Rhythmic Series 1 & 2" with Naomi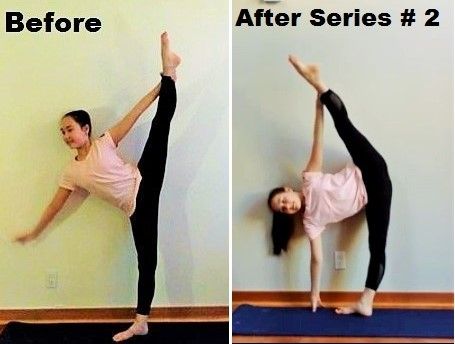 YOU DID NOT TELL ME YOU WERE A SORCERESS!! My Stacey Stretch Strap arrived today, and I completed your "Extension For Days" and my word!! I have never seen such progress. I can't even believe the progress I've made in fewer than 2 hours! Sorcery! Thank you so so so much!!!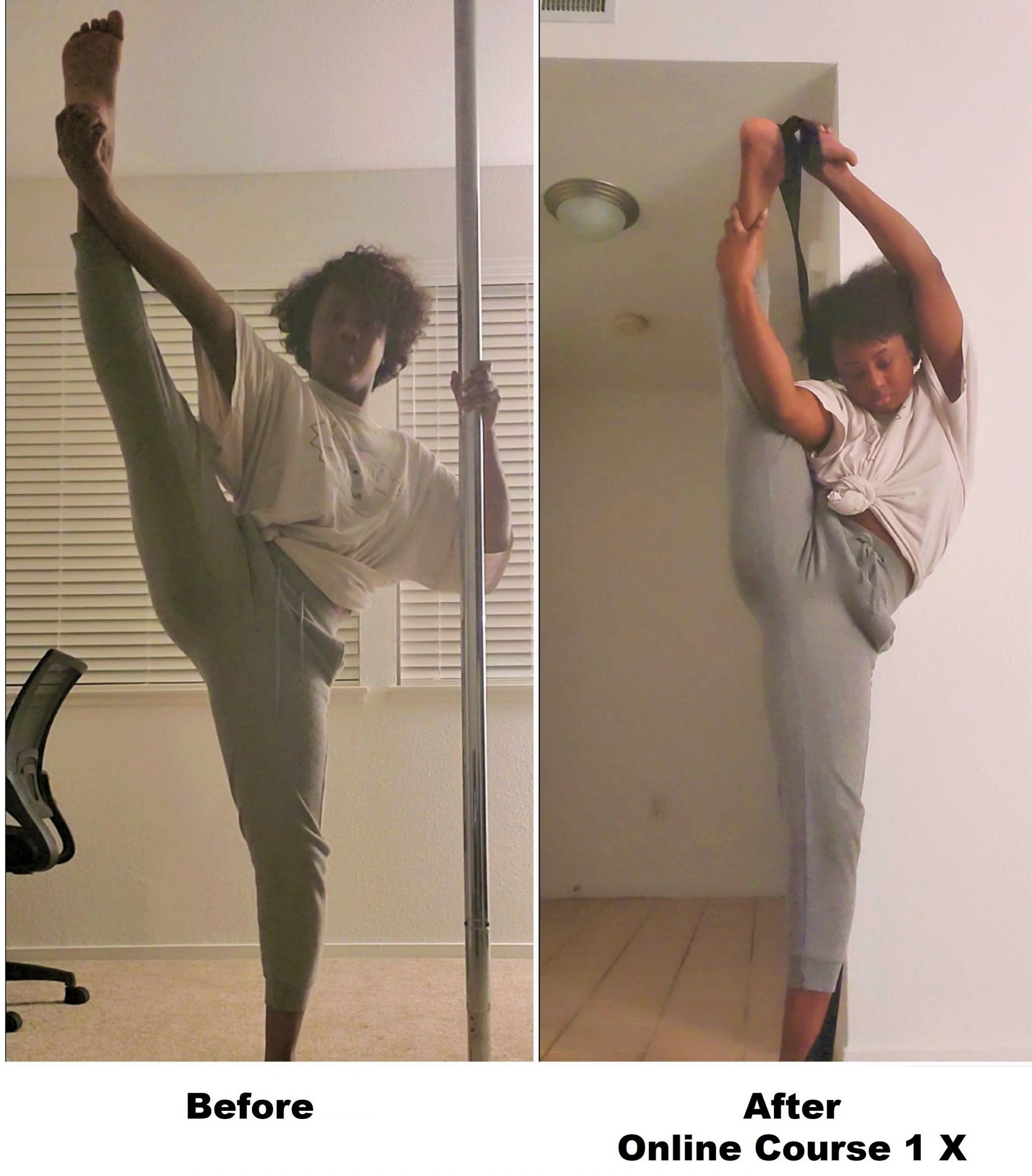 10. Core Strength-This is excellent for the abdominals and strengthening arms
Need Help Choosing the right Flexibility Course Or Master Class Bundle Series Feel Free to
Email Me F
or A Free Consultation
I'll leave you with an inspiring before and after during my recent flexibility training session via Skype with performer Katherine. Showing what is truly possible with the right flexibility training
Created with